Teaching at Vanderbilt (TAV)
Teaching at Vanderbilt 2017, Thursday, August 17th

At the beginning of every academic year, the Center for Teaching hosts "Teaching at Vanderbilt," an orientation for junior and senior faculty new to Vanderbilt.
The orientation features an introduction to strategies for launching a successful teaching career at Vanderbilt, with concurrent sessions on a variety of practical topics. Teaching at Vanderbilt is an opportunity for new faculty to meet each other and to learn how the Center for Teaching can support them throughout their Vanderbilt careers.
PLEASE NOTE: "Teaching at Vanderbilt" features specific strategies for launching your teaching career at Vanderbilt, and is distinct from and complementary to the more general New Faculty Orientation sponsored by the Provost's Office in August. Thus, faculty who will play an instructional role at Vanderbilt are encouraged to attend both events.
Program
All sessions will be held in Buttrick Hall [map].
1:00-1:30 – Check-in & Registration
1:30-1:50 – Welcome Session including CFT Overview (Derek Bruff, CFT Director)
1:55-3:35 – Concurrent Sessions: Thirty minutes each
Concurrent Sessions: Choose 3
1:55-2:25
2:30-3:00
3:05-3:35
Getting to Know Vanderbilt Undergraduates
Leading Class Discussions

Making the Most of Course Evaluations
Leveraging Online Learning Platforms

Improving Student Research Skills with Embedded Librarians
3:40-4:10 – Plenary Session: Faculty Panel Discussion

4:15-5:00 – Reception
Please join us for some light refreshments. Enjoy this opportunity to meet fellow incoming Vanderbilt faculty, and to get better acquainted with the CFT senior staff serving as your department liaisons.

After the Event

Date:Friday & Tuesday, August 18th & 22nd
Although planning fall courses starts long before the start of classes, we recognize that many instructors
are still making course design and implementation decisions right up to the wire.  That's why we're offering
a variety of teaching work-shops for Vanderbilt instructors on August 18th and 22nd, before the start of classes on the 23rd.
Topics at the CFT's Just-in-Time Teaching Conference include:
Teaching with Top Hat: Vanderbilt's New Classroom Response System
Teaching Inclusively to Diverse Groups
Intro to Brightspace Course Management system
What's in Your Syllabus?
Presentation Renovation: Choosing The Right Tools
Small Changes, Big Results
Students as Producers: Creative Assignments for Deep Learning
For more information see our Just-in-Time Teaching Conference webpage
Teaching Consultations
The Center for Teaching provides a wide range of programs, services, and resources to help instructors develop, refine, and reflect on their teaching. These include confidential individual consultation services.  Please contact the Center (322-7290) if you are interested in a conversation with a Center consultant on topics such as the following:
You're welcome to schedule a teaching consultation either before or after the Teaching at Vanderbilt orientation. Just call or email the CFT to schedule.
Traveling to the Center for Teaching
Please note that Teaching at Vanderbilt, the CFT's orientation for new faculty, will be held in Buttrick Hall. Teaching workshops and teaching consultations will be held at the Center for Teaching itself or at the Stevenson Center Building 2 Molecular Biology Bldg in the computer lab, Room 200.  Directions to the CFT  and the Stevenson Center can be found below.
For those walking:
The Center for Teaching (CFT) is conveniently located at 1114 19th Avenue South. Situated at the corner of 19th and Edgehill Avenues, the CFT is just one block from the 21st Avenue pedestrian bridge, making it only a 7 minute walk from Central Campus and just 3 minutes from the Commons. See the map below for location.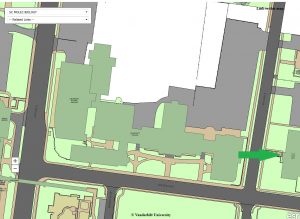 The Stevenson Center is located off 21st Avenue behind the Godchaux Nursing Annex and diagonally from the Central library . See the map below for location.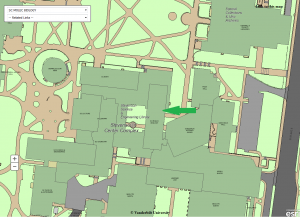 For those driving:
Visitors will find four Zone 1 parking lots within two blocks of the CFT. Adjacent to the building on 19th Avenue is Lot 111 (please do not park in the spaces designated for the Child Care Center); on Edgehill Avenue there are two lots: Lot 80 and Lot 82; and across from the Commons Center is Lot 77 (18th Avenue South).
Zone 2 permit holders may park on levels 4 and 5 of the Wesley Place Garage, which is just two blocks away. After 2:30 p.m. vehicles with any university commuter permit may park in any zoned lot. There are also a number of metered spots available in front of the building on 19th Avenue.
For more information about TaV, contact the Center for Teaching at 322-7290.