Academically Adrift? A Talk by Richard Arum Today on Undergraduate Learning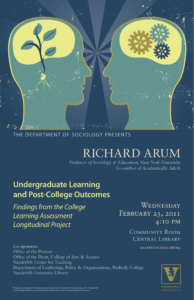 The Center for Teaching is co-sponsoring a presentation this afternoon by Dr. Richard Arum, Professor of Sociology & Education at New York University, and co-author of Academically Adrift: Limited Learning on College Campuses. Professor Arum's research has garnered much publicity, including coverage by the New York Times, the Chronicle of Higher Education, Inside Higher Ed, and National Public Radio, not to mention local coverage in the Hustler and Orbis.
Today's talk, "Undergraduate Learning and Post-College Outcomes: Findings from the College Learning Assessment Longitudinal Project," will be held at 4:10 p.m. in the Community Room on the fourth floor of the Central Library, with a reception after.