Leveraging Diversity in the Classroom – Some Resources
by Derek Bruff, CFT Assistant Director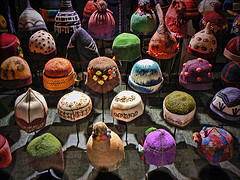 Last night I facilitated a teaching workshop titled "Leveraging Diversity: The Wisdom of Crowds in University Teaching." The workshop was co-sponsored by the Center for the Integration of Research, Teaching, & Learning (CIRTL), a six campus network sponsored by the National Science Foundation focused on preparing future faculty in the sciences, engineering, and mathematics. One of the three "pillars" of CIRTL's work is learning-through-diversity, the idea that not only should diversity be respected in the college classroom but also that it can enhance the learning experience for students. Yesterday's workshop was my effort to explore ways to implement this idea in university teaching, drawing on some sources that aren't in the traditional diversity literature–research and writing on the idea of crowdsourcing.
My primary source for the workshop was The Wisdom of Crowds by James Surowiecki. He makes the argument that the collective judgment of a diverse group of people is often better than the judgment of any individual expert. Surowiecki points out a few conditions that need to be satisfied for the "wisdom of crowds" to work: individuals must have some amount of independence when contributing ideas and perspectives, the process must be decentralized to some degree (and not controlled entirely from the top), and there must be some kind of aggregation tool that combines individual contributions into a single solution to the problem. While reading this book, I wondered if some of the same mechanisms that allow crowds to make good decisions might also help students learn from each other in productive ways. That is, I wondered if "crowdsourcing" might be a way to leverage the diversity of our students to help them learn.
Here's my Prezi for the workshop. It provides a sense of how I used the term "diversity" as well as an introduction to various forms of crowdsourcing that have potential in college teaching.
I drew on four books for the theoretical framework for this workshop:
(That's a bit of a fib. I haven't read The Difference, but I did read this interview with Scott Page and the paper he published with Lu Hong offering a mathematical model for why diverse groups of problem-solvers outperform groups of "high ability" problem solvers.)
And here are a few ideas and resources for each of the crowdsourcing examples I mentioned in the workshop:
We ended the session by crowdsourcing a set of key characteristics of crowdsourcing activities that make them useful learning activities. I'll post a summary of that activity in a future blog post. For now, I hope the ideas above have gotten your creative juices flowing. Please share your ideas for using the "wisdom of crowds" in your teaching in the comments below. (In other words, let's keep crowdsourcing this!)
Update: For even more on this session, including some discussion of those key characteristics, see my blog post over on my personal blog.
Image: "Colourful army," maistora, Flickr (CC)