Preventing Plagiarism – Some Resources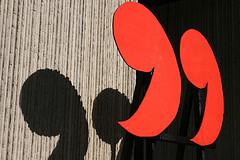 by Derek Bruff, CFT Assistant Director
Earlier this week the CFT and the College of Arts & Science's Undergraduate Writing Program co-sponsored a conversation on teaching titled "Beyond the Quotation Marks: Preventing Plagiarism and Teaching about Academic Discourse." Our three faculty panelists–Lynn Ramey (French), Andy Van Schaack (HOD), and Roger Moore (English)–shared some valuable perspectives on this topic. Look for a podcast of their remarks here on the blog sometime in the future. In the meantime, I wanted to share a few resources from the session.
Indiana University Plagiarism Tutorial – Panelist Andy Van Schaack mentioned that he requires his students to visit this tutorial and earn a certificate of completion by passing a test about plagiarism available on the site. Passing that test requires students to answer the questions 100% correctly, and Andy has his students turn in the certificates they receive. This not only educates his students about plagiarism, but also provides him with documentation that they are clear on what constitutes plagiarism.
Ethical or Not? and Plagiarism or Not? Clicker Questions – At the start of the session, I asked participants to weigh in on a series of activities, asking whether each should be considered plagiarism using a classroom response system ("clickers"). This allowed everyone to weigh in independently on each question and also view and react to the group's opinions. This activity was an adaptation of a couple of clicker-based activities I used last fall in my first-year writing seminar. Follow these links to see the questions I used last fall and how they played out in the classroom.
Also, panelist Roger Moore shared a handout listing a few suggested anti-plagiarism activities:
Choose a passage from a text and ask students to do several different moves with it:  to summarize it, to paraphrase it, to take one idea and agree or disagree with it.  Ask them if they were to write a paper on a particular topic, how would they employ this passage?
Have students read an op-ed piece and then develop (in groups) an argument that responds to the material in the piece.
Choose a newspaper article and letters to editor about it.  Have students evaluate how the letters engage with /interpret/misinterpret the text. (adapted from Joseph Harris, pp. 62-63)
Have students do a writing exercise in which they interact with a secondary source relevant to a research project in the class.  Have them agree or disagree with some point and have them paraphrase and quote from it.
Choose a scholarly article and ask students to comment on how the author interacts with the text or information at issue.  How does the author use secondary sources to good effect?  When does he/she quote directly or paraphrase, and what motivates his choice?
Roger also suggested a few books that instructors might find useful in teaching about academic discourse:
Graff, Gerald, and Cathy Birkenstein.  They Say/I Say:  The Moves that Matter in Academic Writing.  With Readings.  New York:  W. W. Norton and Co., 2009.
Harris, Joseph.  Rewriting:  How to Do Things With Texts.  Logan, Utah:  Utah State UP, 2006.
Lipson, Charles.  Doing Honest Work in College:  How to Prepare Citations, Avoid Plagiarism, and Achieve Real Academic Success. Chicago:  U of Chicago P, 2004.
For additional resources, consult our teaching guide on cheating and plagiarism and my post from earlier this week, "Why Do Students Cheat?"
Image: "The 'Library'," Quinn Dombrowski, Flickr (CC)