Five Ideas for Mobile Learning (#EDUSprint)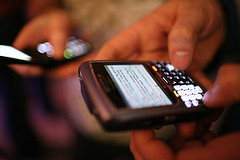 by CFT Assistant Director Derek Bruff
During the last week of April, EDUCAUSE, a nonprofit organization that promotes and supports the use of information technology in higher education, hosted the Mobile Computing Sprint, a five-day series of online events on the use of mobile computing in higher education. Although some of the discussion was directed at mobile infrastructure, much of the discussion during the Sprint focused on mobile learning, the use of mobile devices (smart phones, tablets, laptops, cell phones, and such) in support of teaching and learning.
The Sprint consisted of live online seminars (now archived), blog posts, short videos, podcast episodes, a set of discussions on IdeaScale, and a healthy backchannel on Twitter. I was active throughout the event, particularly on Twitter (where I ended being the most "retweeted" participant) and on IdeaScale (where I had the second-most popular claim, that mobile learning can transform what happens *in* the classroom).
I also managed to write five blog posts during the week on the topic of mobile learning. Back in 2009 on my blog, I posited that there are five types of mobile learning, and so I thought blogging about each type during the five-day Sprint would be useful way to participate in the EDUCAUSE event. If you're interested in the use of mobile devices, including the ones that students bring with them to campus, you might enjoy reading these blog posts:
If you're interested in using mobile devices in the classes you teach, please feel free to contact me or the CFT's educational technology, Rhett McDaniel. We'd be glad to help you think through ways you can add some mobile learning to your teaching. Also, see these highlights from a conversation on leveraging student laptops and smart phones that the CFT hosted last fall for a few more ideas.
Image: "SXSW 2007," Scott Beale, Flickr (CC)