MyVU highlights Celebration of Teaching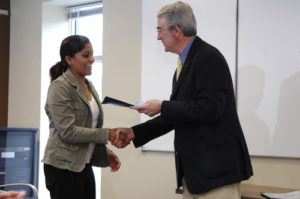 An article by Kara Furlong appeared in MyVU on Thursday, May 5, 2011, which highlighted the Center's Celebration of Teaching.
Faculty and graduate students who participated in Vanderbilt Center for Teaching programs this academic year talked about the value of their experiences, and teaching certificates were awarded to 14 graduate students, at the Celebration of Teaching May 3. The annual event, held at the Center for Teaching, honored teaching across the university.
"Excellence in teaching is a fragile thing," said Provost and Vice Chancellor for Academic Affairs Richard McCarty in his opening remarks. But it is something that Vanderbilt students seem to value and appreciate greatly.
"Undergraduates value the classroom experience," McCarty said. "Many of you in this room change lives on a regular basis, and your efforts are magnified by all of the students you teach."
The 2010-11 academic year marked the first for the Center for Teaching's Junior Faculty Teaching Fellowsprogram, designed to enhance tenure-track junior faculty's professional development by giving them personalized instruction in how to approach classroom teaching. The fellows participated in a course-design working group, dinners with senior faculty mentors, a more directed set of consultations, and an end-of-year colloquium on the development of their teaching.
"It isn't enough for us simply to pass on information to our students," said Philip Ackerman-Lieberman, assistant professor of Jewish studies and law and a member of the Junior Faculty Teaching Fellows inaugural class. "We must communicate a sense of connection to our students." Helping them to develop empathy for the subject matter allows students to see themselves in the problems presented in the material, he said. In turn, this approach has brought new relevance to Ackerman-Lieberman's own work.
Teresa Goddu, associate professor of English and director of the Program in American Studies, spoke about The Cumberland Project, a Vanderbilt faculty development workshop centered on sustainability and pedagogy.
"Sustainability is the educational question of the 21st century," said Goddu, who collaborated with Center for Teaching Director Allison Pingree and Assistant Director Joe Bandy to develop the workshop, which will help interested Vanderbilt faculty incorporate sustainability themes into their curriculum. The Cumberland Project will convene May 9 and 10.
Gretchen Selcke, a graduate student in the Department of Spanish and Portuguese, discussed her participation in the Teaching Certificate Program, which helps Vanderbilt graduate students, professional students and post-doctoral fellows develop and refine their teaching skills through three cycles of teaching activities, each consisting of inquiry, experimentation and reflection phases. Participants who complete the program receive a teaching certificate from the Graduate School and the Center for Teaching.
"The Teaching Certificate Program has helped me gain confidence in a classroom setting, clearly articulate my teaching strategies … and professionalize myself as an instructor," Selcke said. Read More…..