Teaching At Vanderbilt: An Orientation for New Faculty (August 15)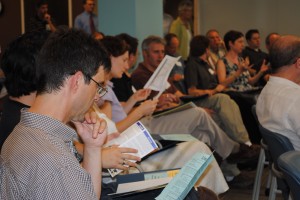 At Vanderbilt, we believe research and teaching can be — indeed must be — united.  Just as you ask innovative and challenging questions in your research, your efforts in the classroom or the laboratory challenge your students to experience your discipline and the world in new and different ways. 
The CFT invites all new faculty at Vanderbilt to attend Teaching at Vanderbilt, an orientation for faculty of all ranks who are new to Vanderbilt, sponsored by the Office of the Provost and the Center for Teaching.  This event will provide new faculty with an opportunity to meet with some of Vanderbilt's best teachers, as well as get to know other incoming faculty colleagues.  We will also explore the special nature of teaching at Vanderbilt — the kinds of students faculty encounter, the resources available, and our commitment to excellence in teaching at all levels.
This event will be held on Monday, August 15th from 3:00 – 5:00 pm at the Center for Teaching (1114 19th Avenue, at the corner of 19th and Edgehill Avenues).   This year's event will offer a selection of interactive sessions in which participants will explore topics such as: 
Documenting and Evaluating Teaching Effectiveness
Getting to Know Vanderbilt Undergraduates
Please RSVP by August 8th by Registering Online or by calling the Center for Teaching at (615) 322-7290.
Following this event, the Center will host individual consultations and lunchtime workshops addressing a range of teaching topics.  More information on these offerings can be found online.
A final resource to support teaching here is Getting Started Teaching at Vanderbilt:  www.vanderbilt.edu/cft/gettingstarted/.  This website is designed to address commonly-asked questions (using Vanderbilt's course management system, ordering textbooks, accessing class rolls with student photos, and so on) with quick answers and contacts for further information.
We encourage all faculty to use this site and the Center's other resources over the course of your careers at Vanderbilt.
Welcome to Vanderbilt!