GradSTEP Preview: Humanities & Social Sciences Virtual Panel
What happens after a successful job search? This year's GradSTEP event will feature two simultaneous panels of recent PhDs who have made the transition from grad student to full-time faculty jobs. They answered the "What Next?" question, and will share their stories of stumbles and triumphs in these plenary sessions.

Panelists in the humanities and social sciences plenary teach at institutions that are, in some ways, unlike Vanderbilt. Megan Streams, an Assistant Professor of Public Administration at Tennessee State offers her experience transitioning from the University of Kentucky to TSU, a historically Black university. Forrest Perry is a philosopher who teaches a diverse group of fewer than 5,000 students St. Xavier University near Chicago. Chad Eggleston teaches religion at Huntingdon College in Montgomery, Alabama. Huntington is a United Methodist affiliated liberal arts college with an enrollment of just over 1,000 students.  You can read more about each of the panelists on the GradSTEP page on the CFT website.
These three panelists will be joining the live conversation through Skype, and we welcome your questions to guide the conversation. Graduate students are encouraged to "tweet" questions to panelists both before and during the event. Questions or comments that include the hashtag #CFTHSS will be considered for the panel.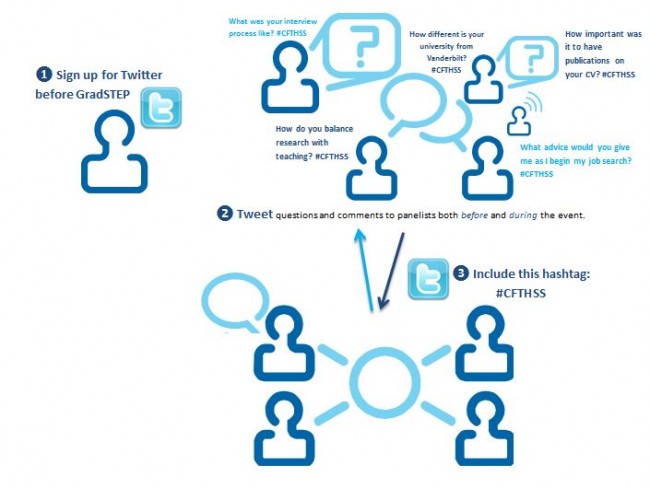 How You Can Participate: Before GradSTEP, sign up for a Twitter account at Twitter.com. Before the panel session begins, log on to Twitter using a cell phone or your laptop computer. Before and during the GradSTEP plenary session, tweet your questions and include the tag #CFTHSS. Using this tag will help the panel moderator select the most pressing questions from the graduate student community. (Note that questions that do not include the tag #CFTHSS will not be included in the panel.)
Ask your questions and get answers that help you plan for your future faculty career! Remember the hashtag #CFTHSS for all your questions on the transition from grad student to faculty member.
It's not too late to register for GradSTEP – click here to register.