GradSTEP recap: Humanities and Social Sciences Panel
Making the Transition from Student to Professor: Humanities and Social Sciences Panel
What happens after a successful job search? This year's GradSTEP event featured two panels of recent PhDs who have made the transition from grad student to full-time faculty jobs. They answered the "What Next?" question and shared their stories of stumbles and triumphs in these plenary sessions.

Panelist Megan Streams, an Assistant Professor of Public Administration at Tennessee State offered her experience transitioning from the University of Kentucky to TSU, a historically Black university. Forrest Perry is a philosopher who teaches a diverse group of fewer than 5,000 students St. Xavier University near Chicago. Chad Eggleston teaches religion at Huntingdon College in Montgomery, Alabama. Huntington is a United Methodist affiliated liberal arts college with an enrollment of just over 1,000 students.  You can read more about each of the panelists in an earlier blog post about GradSTEP.
Panelists were asked:
How has this institutional setting impacted your teaching?
What most surprised you or what were you least expecting about your role as faculty?
What have you most enjoyed about your transition to faculty life?
What is one challenge you faced (e.g., time management, student expectations, committee work, etc.)?  How did you adjust to or overcome this challenge?
Several major lessons came from the panelists' responses to these questions:
First, while many graduate students are trained almost exclusively for a research career, most find that their first job is at a place significantly different from Vanderbilt. Simply put, Vanderbilt is among a small number of highly research-active faculty, and this is not the case at most other institutions. Thus, institutional setting has an important bearing on expectations for faculty in preparing for classes, supporting students in and outside the classroom, and in conducting your own research.
Second, institutional cultures vary considerably regarding the amount of power faculty have to shape the direction of the college or university. One panelist mentioned that power within his school is concentrated at the highest levels of administration. Another said that his faculty union has a strong voice in negotiating pay, benefits and working conditions for faculty.
Panelists agreed that the flexibility of faculty life is one of the most enjoyable aspects of the job. This also means that time management, and for some, high teaching loads make balancing the many responsibilities that come with faculty work difficult. One panelist said that work expands to fill the time available.
Graduate student questions led to a broader discussion of students' expectations for their professors, useful teaching tools learned in graduate school, and on negotiating once you have a job offer.
Panelists described a wide variation in student expectations, with some students expecting a great deal of personal attention. Students in Megan Streams' public administration classes, usually older, working professionals have different expectations than Forrest Perry's racially and ethnically diverse group of often first-generation college students.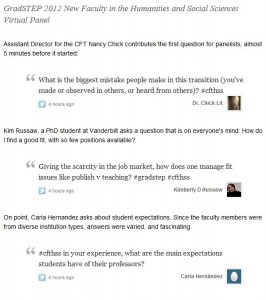 All panelists stressed the importance of negotiating over salary and benefits when starting a new job, although for some, these are set by contracts between the university and union. Negotiation, when possible, is a must.
We hope the panel added to participants' understanding of the different types of colleges and universities, and the impact these contexts have for faculty careers.
In addition, Dan Morrison pulled together the tweets and some commentary on the panel in a Storify which is posted here.