Are poster sessions or blogs part of your course? If so, we'd like to hear from you!
The Center for Teaching is interested in hearing from Vanderbilt faculty and staff who are: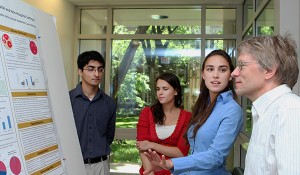 – Using end-of-course poster sessions in which students share the results of their individual or team projects. For instance, senior lecturer Steve Baskauf uses a poster session as an opportunity for his introductory biology laboratory students to share the results of experiments they devised and conducted during the semester.  If you hold a poster session or similar event for your students, the CFT is interested in attending and perhaps promoting your event, and in discussing your students' learning experience with you and your students.
– Using blogs in their courses as a way to have students share their writing on course-related topics with each other or with a wider audience. For instance, assistant professor of English Humberto Garcia uses a blog for his English 274 Honors course as a multimedia forum where he and his students share ideas and perspectives as they learn about William Blake. If you're using a course blog, we'd like to hear how you're using it so we can get a better understanding of the educational blogging landscape at Vanderbilt.
Why are we seeking these stories?
We believe that the teaching community at Vanderbilt is made stronger when we share our experiences, struggles, and successes with strategies that enhance student learning – so please share with us your stories related to either of these topics. (And if you're doing something else in your classroom that you'd like to share, we'd love to hear about that, too!)