Meet CFT Graduate Teaching Fellow Katie Headrick Taylor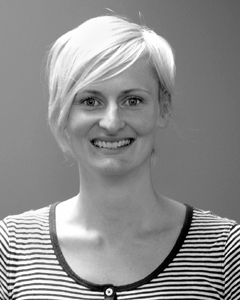 This fall, we're introducing the CFT's 2012-13 Graduate Teaching Fellows* individually to highlight their areas of expertise, interests, and specific CFT activities.
Katie Headrick Taylor is a Ph.D. student in the Department of Teaching and Learning in Vanderbilt University's Peabody College.  For Katie's dissertation research, she conducted a design experiment for spatial justice with local youth participating in a neighborhood bicycle workshop.  She is interested in supporting young people in learning the "official" tools (e.g., geospatial technology) and discursive processes of community change so that youth can "take place" in how their neighborhoods and cities develop over time.  Katie received her B.A. in Metropolitan Studies from New York University in 2003.  While a new GTF, Katie is very familiar with the CFT, as she designed and facilitated an orientation session for new TAs when she was a Teaching Affiliate for TAO 2009.
Currently for the CFT, Katie is Editorial Manager for the new Journal of Teaching and Learning Inquiry, the journal of the International Society for the Scholarship of Teaching and Learning (ISSOTL). In this role, she works closely with CFT Assistant Director Nancy Chick, the journal's co-editor.  This fall, Katie is also instructing a section of the Certificate in College Teaching seminar and looks forward to her weekly discussions with the attending scientists and engineers.  In part because she's tech-savvy, she'll also be helping CFT Director Derek Bruff with an ongoing research project on students' use of technology.  She will also be contributing to the CFT blog series "Teaching Outside the Classroom."  In the spring, she will work with her fellow GTFs in planning GradSTEP (a day-long January event offering several workshops and discussions on teaching, learning, and professional development across the disciplines), as well as subsequent workshops and other projects that emerge throughout the year.  When Katie is not doing this work or co-leading workshops on educational technology with the wonderful CFT staff, she is acting as a mother to her new son and finding slices of writing time to complete her dissertation and to keep her blog somewhat current.
*  GTFs provide a variety of services for Vanderbilt's graduate, post doc and professional students, including one-on-one consultations on teaching issues and professional development, syllabus and course design, interpreting and responding to student evaluations, writing teaching statements, and engaging techniques such as discussion leading, lecturing, and using technology in the classroom.They also create and facilitate Teaching Assistant Orientation, Teaching Workshops, and the annual Graduate Student Teaching Event for Professional Development (GradSTEP) conference. In addition, they support the Certificate in College Teaching and various CFT initiatives.
To schedule an appointment with Katie or any other GTF, please call 322-7290.