Professors tweak their pedagogical style with blogs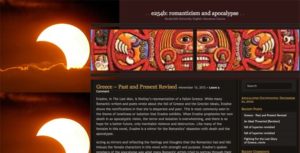 Vanderbilt faculty are increasing incorporating online wiring in their teaching. A recent article by Joan Brasher highlights the work of Assistant Professor of English Humberto Garcia and his course blog The Romantic Period: Romanticism and Apocalypse and Allison Schachter, Assistant Professor of Jewish Studies and English and her course blog Literature, Photography and Memory.
From the MyVU article:
Social media tools have changed the way people communicate, learn and share ideas—and the academic world is no exception. More than ever before, professors, including some here at Vanderbilt, are using blogs to supplement more traditional teaching and grading methods. Blogs are an ideal teaching tool, because they provide a virtual interactive gathering place where students can learn from each other, express themselves, comment on and critique their classmates' work, and explore course material in a collaborative way, according to Assistant Professor of English Humberto Garcia…[MORE]
Interested in using a blog for your class?
Consultants at the CFT are on hand to talk with instructors at Vanderbilt who need help getting started with blogging. The CFT also has an online guide to teaching with blogs. If you'd like to see how other courses at Vanderbilt are using blogging, visit our course blogs at Vanderbilt site where a variety of Vanderbilt course blogs are aggregated.