Eric Mazur on the Flipped Classroom and Peer Instruction, April 4th
by Derek Bruff, CFT Director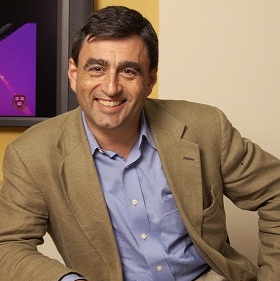 If you're interested in improving student learning in the STEM (science, technology, engineering, mathematics) fields or in large classes of any discipline, you won't want to miss Harvard physics professor Eric Mazur's talk in Light Hall at noon on Thursday, April 4th. Mazur's talk is titled "An Alternative Approach to Helping Students Learn: Combining the Flipped Classroom and Peer Instruction" and is this year's John E. Chapman Lecture in Medical Education, co-sponsored by the Dean's Lecture Series and Medical Education Grand Rounds at the School of Medicine.
It was Eric Mazur, during his visit to Vanderbilt back in 2002, who introduced me to classroom response systems ("clickers"), a technology whose classroom use I've explored in many ways since then. Mazur coined the term "peer instruction" to describe a particular technology-enhanced, student-centered pedagogy, and his writing and talks on this topic have helped many faculty around the world create more active learning environments in their classrooms.
I've been fortunate to hear Mazur speak several times, and I can attest that he's an engaging, passionate, and persuasive advocate for teaching methods that improve student learning. I hope you'll be able to attend his talk here at Vanderbilt on April 4th. Register now.
In the meantime, if you're interested in learning more about aspects of Mazur's pedagogy, see our teaching guides on the flipped classroom and on classroom response systems. You can also follow Eric Mazur on Twitter.