New Partnership, New Opportunities for Humanities Doctoral Students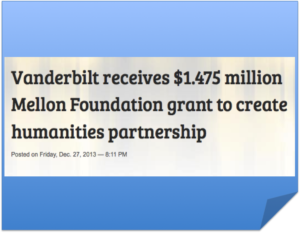 by Nancy Chick, CFT Assistant Director
We at the CFT are thrilled to be part of Vanderbilt's new Mellon Partners for Humanities Education project to provide "specialized training for new Vanderbilt Ph.D.s in preparing students for teaching at liberal arts colleges and historically black colleges and universities" (HBCU).  The program, supported by a $1.475 million Andrew W. Mellon Foundation grant, creates a partnership between Vanderbilt and Tennessee State University, Tougaloo College, and Berea College.
The CFT will offer a special section of the CFT's Certificate in College Teaching as a Mellon Seminar, designed specifically for humanities doctoral students who are interested in faculty careers at HBCUs and liberal arts colleges. In this section, participants will learn not only fundamentals of research-based teaching practices and how college students learn; they will focus on humanities pedagogies and the specific contexts of smaller campuses, liberal arts colleges, and historically black institutions. For example, participants will delve into their discipline's signature pedagogies, or its ways of teaching that enact in the classroom its habits of mind, the practices, and the values. (For more about signature pedagogies, read this post about one of my presentations.) They will then explore the commonalities among these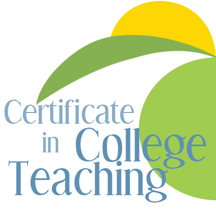 pedagogies across the humanistic disciplines. They will also learn about the traditions and cultures for teaching and learning at campuses like TSU, Tougaloo, and Berea–among many others.
This spring, Senior Graduate Teaching Fellow Jessica Riviere (German) and I will be working closely together to develop this curriculum. After completing our former Teaching Certificate Program, Jessica joined the team to design and teach the current (and wildly popular) CiCT program, so she has tested and tweaked the fundamentals of the course and its structures, experiences that will make effective adaptation simpler. I'm excited to bring my work with signature pedagogies and the humanities to interested graduate students. The CFT will also be hiring a fifth Graduate Teaching Fellow to assist with this partnership and teach the Mellon Seminar.
The Warren Center for the Humanities and the Curb Center for Art are developing Mellon Institute for Early-Career Scholars in the Digital and Public Humanities, a week-long program devoted to the public and digital humanities. For more information about the project, read this story.
If you're a graduate student in the humanities and interested in either teaching or taking our Mellon Seminar, stay tuned for more information in the coming months.