A Conversation on Flipped Classrooms
by Derek Bruff, CFT Director
On March 7th, the CFT and the Vanderbilt Institute for Digital Learning (VIDL) hosted the second in a series of Conversations on Digital Pedagogy. These conversations are meant to provide members of the Vanderbilt teaching community opportunities to learn from each other as they explore creative and effective uses of educational technology.
The conversation focused on the use of technologies to support "flipped" classrooms.  What is the flipped classroom? This term describes a teaching approach in which students get a first exposure to course content before class through readings or videos, then spend class time deepening their understanding of that content through active learning exercises. Here's a visual I like to use to compare the flipped approach with a more traditional lecture-first approach: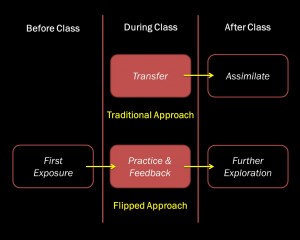 The April 7th conversation featured panelists Katherine Friedman, Associate Professor of Biological Sciences; Jesse Blocher, Assistant Professor of Finance; and Emilianne McCranie, PhD student in chemistry. Kathy and Emilianne are both participants in the BOLD Fellows program here at the CFT, and Jesse is one of our Junior Faculty Teaching Fellows this year.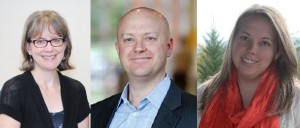 Kathy Friedman described her experiments flipping her genetics course. She showed a clip from one of the videos she created, which feature slides with handwritten annotations and voiceovers by Kathy. Before class, via Blackboard, students watch these short videos, then take quizzes that provide feedback on the video content. This prepares students to spend class time working in groups to solve open-ended problems. I appreciated that Kathy discussed not only the pre-class part of her flipped classroom, but also the in-class portions. Often, flipped classroom discussions focus on the technologies used for the pre-class, but it's the in-class interactions that are critical to the success of a flipped class.
Emilianne McCranie worked with chemistry lecturer Michelle Sulikowski to flip a portion of Michelle's organic chemistry course. Her approach was similar to Kathy's, and, like Kathy, she's collecting data on student learning and student perceptions. In her talk, Emilianne focused on the student response to this instructional approach. I thought it significant that 30% of her students felt that the flipped approach helped them learn, but they didn't like it. Her flipped module came near the beginning of the second course in a two-course sequence, and students were likely used to a more traditional approach by that point in the sequence. When introducing a new teaching approach, it's important to understand and acknowledge student expectations for their learning experience–and then help students appreciate the value of the new approach. But that can be a tough sell sometimes!
Jesse Blocher started by saying that he flips his classes because he can't stand PowerPoint-based lectures. He wants his class time to be more interactive, with students working in groups through case studies. Jesse takes a "just-in-time" approach to his teaching, asking students to submit questions about the pre-class readings and videos he assigns them. Jesse reviews those student questions before class, then tweaks his lesson plan to respond to student needs and interests. During class, while students are working in groups, Jesse circulates among them, asking and answering questions and prompting further thought. He also uses Poll Everywhere to poll his students a few times during class, to get a better sense of how they are thinking about the material. Jesse noted that he has been flipping his classes for a few years now, and every time he tries something a little bit different. Many faculty find that iterative approach to refining their teaching an effective one.
Thanks to our panelists for sharing their experiences. This fall, we'll continue the Conversations on Digital Pedagogy series, so look for announcements here on the CFT blog. In the meantime, here are a few resources on the flipped classroom: