Junior Faculty Spotlight: Kanah Lewallen
Each month, the CFT Newsletter highlights the work of our Junior Faculty Teaching Fellows. This month, Kanah Lewallen, nursing, talks about their teaching philosophy and interests.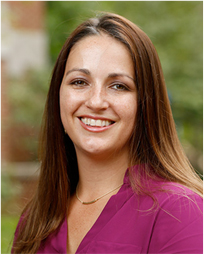 Within the School of Nursing, I have the pleasure to instruct students in the Adult Gerontological Primary Care and Family Nurse Practitioner programs. My teaching philosophy is primarily focused around adapting instructions based on the learners' needs. Educating individuals from different backgrounds can be challenging, and the students that I am instructing have varying levels of nursing experience.
Having an understanding of these different backgrounds and fostering a community of learning within the course allow me to use the experience of each student to benefit the entire class while also adapting course work to meet each learners' needs. Another component of my teaching philosophy is using my own passion to promote confident and well prepared nurse practitioners. I have the great opportunity to instruct students on the care of the older adult. I am very passionate about caring for the older adult, but not everyone shares that passion.
Therefore, getting students without that interest to be engaged can be challenging. With our aging population, it is important for our graduates to be well prepared to care for patients over the age of 65. Geriatric care is often complex and lacks clear evidence based guidelines in comparison to other patient populations. This can often leave the student frustrated and lacking confidence.
By instructing the student on effective communication and patient centered care, they have the tools to care for this population, which will in-turn improve their confidence.  I am looking forward to evaluating how to better serve my students through the JFTF by identifying an effective method to evaluate clinical learning and the development of assignments for clinical courses.