Listen to the latest Leading Lines podcast with Melissa Mallon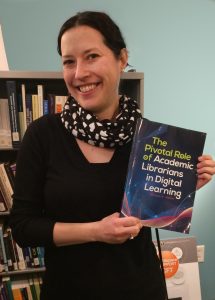 In this episode, we feature an interview with one of our own. Melissa Mallon, director of the Peabody Library and director of liaison and instruction services here at Vanderbilt, has a new book out, and my Center for Teaching colleague Stacey Johnson had a lively conversation with Melissa about the book. Part of Melissa's work at Vanderbilt focuses on faculty-librarian partnerships to support student learning, particularly research and digital literacy skills. That's what her book is about, the role librarians can play in helping students develop these skills. She and Stacey talk about that role, and the increasing importance of critical media literacy.
---
You can listen to more of our podcasts by visiting the Leading Lines website, search for "Leading Lines" in iTunes, or subscribe via RSS.  You can also follow us on Twitter, @LeadingLinesPod.