Attend the Celebration of Learning on February 4th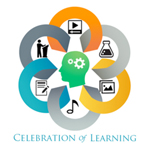 On February 4th the Center for Teaching will hold a Celebration of Learning, an exhibition of students as producers. Research projects and design initiatives, podcasts and documentaries, candle-making devices and board games, clothing catalogs and virtual reality simulations… these and more will be on display in Alumni Hall from 2pm to 4pm. We're inviting faculty, students, and staff to stop by and get a snapshot of what Vanderbilt students have learned, created, designed, and discovered across campus.
All of the projects on display at the event are the result of instructors who engage their students not only as consumers of information, but producers of knowledge. The projects emerged from courses and other learning experiences where were asked to tackle open-ended problems, to operate with a degree of autonomy, or to share their work with wider audiences. All of the projects were nominated by faculty members, and all were completed in calendar year 2018.

Schedule:
2:00pm – 2:10pm – Opening Remarks by CFT Director Derek Bruff
2:10pm – 4:00pm – Poster Session (featuring far more than just posters)
4:00pm – 4:45pm – Student-Faculty Panel
All events will be in Alumni Hall, on the second floor. Stop by between 2:10pm and 4:00pm to see the projects and talk to the students behind them. From 4:00pm to 4:45pm, join us for a student-faculty panel discussion of assignments that engage students as producers. What is it like to mentor students on projects like these? What is it like to do the kind of creative, open-ended work these projects require?
If you're curious about the amazing work that Vanderbilt students produce in and out of their courses, please join us on the 4th! If you're interested in attending the Celebration of Learning, you can RSVP here. Questions about the event? Please contact CFT Program Coordinator Tracy Tveit.