Celebration of Learning 2020: An Exhibition of Students as Producers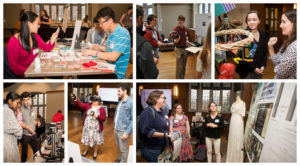 On February 13, 2020, the Center for Teaching will hold a Celebration of Learning, an exhibition of students as producers. The event will feature students from all over campus sharing what they have learned, created, designed, and discovered, providing the Vanderbilt community with a picture of deep learning across the colleges and schools.
We are inviting faculty and other instructors to recommend students to participate in the Celebration of Learning. We are particularly interested in showcasing work done by students as part of courses taught at Vanderbilt.
Have you asked your students to tackle open-ended problems, to operate with a degree of autonomy, or to share their work with wider audiences? Please think about students who might share a project from calendar year 2019.
Visit our Celebration of Learning event page for details.