Additional security measure for logging into Brightspace goes into effect Monday, April 13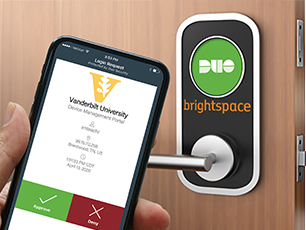 As of April 13th 2020, all faculty, staff, TAs, and postdoctoral researchers will be required to use Two Factor Authentication (2FA) as an additional security measure for logging into Brightspace as well as several additional Vanderbilt accounts. This will change the way you log into Brightspace. First, you will need the Duo Mobile app on your mobile device. Then, every time you log into Brightspace from any device, you will need to confirm on the Duo app on your phone or tablet that you are logging into Brightspace.
The Brightspace team have created an online guide to help you navigate the setup process for Duo Mobile, our Two Factor Authentication provider, and enable push notifications. For questions about Duo Mobile or if you encounter any difficulties, you can reach the IT department at 615-343-9999 or by submitting a ticket at it.vanderbilt.edu.
.
.
.