Upcoming Conversation on Teaching: Accessibility and Equity in Course Design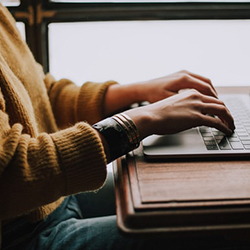 Are you interested in learning how to create equitable online spaces that are accessible to all students? This interactive panel discussion will bring together members of the Vanderbilt community who are experts on fostering accessibility in online learning spaces. Panelists will share effective practices and creative approaches for building and implementing accessible courses online. Participants will be invited to ask questions and troubleshoot accessibility challenges they may be facing in their own courses with the group. This will be an opportunity for all to connect with others who wish to improve accessibility in current or future online courses and create more equitable learning environments. Please join us!
Panelists:
Erica Brandon, Instructional Technologist, CFT
Bill Burgess, Assistive Technology Specialist
Aimi Hamraie, Associate Professor of Medicine, Health, and Society
Cait Kirby, PhD Candidate, Biology.
Facilitator: Amanda Brockman, Graduate Teaching Fellow, CFT.
Date: Tuesday, January 19, 2021
Time: 3:00-4:30 p.m.
A Zoom link is included in the confirmation email.