Upcoming Spring Meetings Around Teaching and Race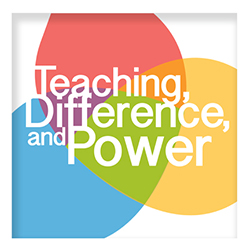 As part of the 2020-21 Teaching, Difference, and Power learning community on Teaching and Race, the Center for Teaching is hosting meetings this Spring that we hope you will attend.  
On  February 19th, from 9:00am to 10:30am, at this link, we are fortunate to have Rich Milner from the Department of Teaching and Learning, Peabody College, facilitate a discussion entitled, "Opportunity-Centered Teaching Across Disciplines in the 'New' Normal."  Centering racial justice and equity in the "new normal," the discussion is designed to support instructors in building tools to more deeply understand and address complex needs of racially diverse and minoritized students. Building on conceptual features of what Milner calls Opportunity-Centered Teaching, particular attention will be placed on curriculum and instructional practices that potentially build humanism and emancipatory spaces in university classrooms. Recognizing teaching and learning as more than cognitive rigor, the session highlights a range of tools to support social, emotional, psychological, and mental health and wellbeing among students and instructors alike. How do we co-construct (with students) classroom spaces that center opportunity for healing in the midst of racism, sexism, xenophobia and other forms of discrimination inside and outside of higher education?
On April 2nd, from 12:30pm to 2:00pm, at this link, we will focus our attention on what faculty can do to close race (and other) performance and persistence gaps across the disciplines.  Throughout 2020-21, a group of STEM faculty have met to discuss their concerns with disparities that exist between underrepresented and well-represented groups of undergraduate students, particularly disparities of persistence in STEM majors. In their discussions they have concentrated on insights from their own experience and from the book, Talking about Leaving Revisited, a five-year study that explores the causes of field-switching among STEM majors and the factors that enable persistence to graduation. Members of this faculty group including William Robinson (Vice Provost for Academic Advancement and Executive Director of the Provost's Office for Inclusive Excellence, and VU School of Engineering), Kathy Friedman(Biological Sciences), Adriane Seiffert(Psychology), and Thomas Clements (Biological Sciences) will join the Teaching and Race learning community to share what they have learned and discuss reforms to teaching practices that may reduce performance and persistence disparities across the disciplines.