New Course Design Institute Focusing on Inclusive Teaching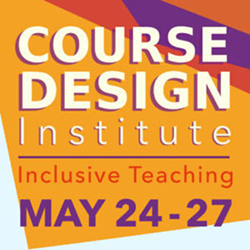 The Center for Teaching was pleased to offer a Course Design Institute on Inclusive Teaching, May 24-27, in which participants (re)designed courses with a focus on all aspects of inclusive teaching, particularly engaging a diverse range of voices and perspectives, supporting student belonging and empowerment, developing productive dialogues about difficult subjects, providing accessible assignments and activities, and closing performance and persistence gaps.
We would like to thank the 36 participants for their many insights and their work to transform their courses, and to the many faculty and staff who gave of their time to support them, including Luis Leyva, Lily Claiborne, Sophie Bjork-James, Amanda Brockman, Bill Burgess, Stacy Simplican, Marcy Singer-Gabella, Carwil Bjork-James, Shane Hutson, Heather Fedesco, Lisa Fazio, Ipek Oguz, Rob Nelson, Rory Dicker, Franklin Ellis, and Jason Steinas. Together, all of you made the event a success and contributed to Vanderbilt's efforts towards ever greater inclusion and equity.
---
.