Celebrating the Center for Teaching's 35th Anniversary
by Derek Bruff, executive director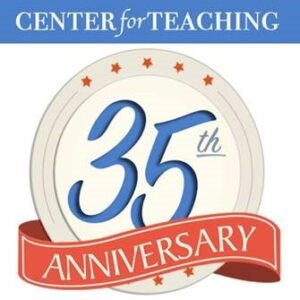 The Vanderbilt Center for Teaching was founded in 1986. That means that we are celebrating our 35th anniversary this year! The Center for Teaching started as a small unit in the College of Arts & Science led by our founding director Ken Bain, author of What the Best College Teachers Do (Harvard Press, 2004) among other books. In the late 90s, the CFT moved to the Office of the Provost to become a university-wide resource, growing to seven full-time staff when I started here as an assistant director in 2005. We now have 14 full-time staff and a number of graduate students in various positions. And after a very busy 2020 helping faculty transition to online and hybrid instruction, our value to the campus and, indeed, higher education has never been more clear.
To celebrate our past, present, and future, we're organizing a special 35th anniversary panel featuring Center for Teaching staff and graduate fellow alumni. The panel will be moderated by Allison Pingree, senior instructional coach at the Teaching & Learning Lab at Harvard Graduate School of Education and former CFT director (1998 to 2011). Panelists will discuss a series of questions on teaching and learning in higher education and the field of educational development.
Our panelists for this very special event are:
Peter Felten, assistant provost for teaching and learning, executive director of the Center for Engaged Learning, and professor of history at Elon University (and former CFT associate director)
Brielle Harbin, assistant professor of political science at the United States Naval Academy (and former CFT senior graduate teaching fellow)
Shederick McClendon. higher education consultant and senior partner, Sphinx Global Solutions (and former CFT master teaching fellow)
Katie Headrick Taylor, associate professor of learning sciences and human development at the University of Washington (and former CFT graduate teaching fellow)
The CFT 35th anniversary panel will be held via Zoom on Friday, October 29th, from 11am to 12pm Central. It's open to Vanderbilt faculty, staff, and students, Center for Teaching alumni, and anyone with an interest in teaching and learning in higher education. We hope you can join us for this event 35 years in the making! REGISTER HERE.