Podcasting Essentials: What you need to know to launch your own podcast
by Rhett McDaniel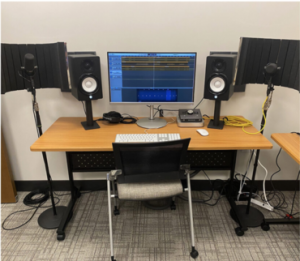 Have you ever listened to a podcast and been inspired to make one of your own? You can! Producing academic podcasts around your course topics is a great way to help your students learn. In addition, your podcast would be accessible to the nearly 118 million podcast listeners all over the world.
In this session, you'll have a chance to visit the new Digital Media Lab in the Digital Commons building at 1101 19th Ave. South and become familiar with the hardware and software you'll need to create a professional sounding podcast, You'll also learn about other important aspects of successful podcasts like finding sources for music and sound elements, uploading and storing audio files, listing your podcast on Spotify and Apple, and designing your podcast artwork.
Date: Wednesday, March 9th
Time: 2-3:30pm
Location: Digital Commons, Room 012
Facilitator: Rhett McDaniel
---
.
.
.
.
.