The Center for Teaching extends an invitation to former staff for a reunion celebration!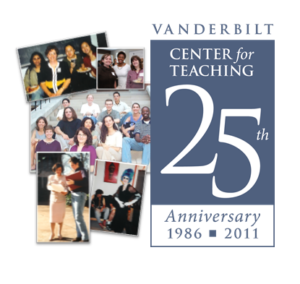 Current and former full time staff, Master Teaching Fellows, Graduate Teaching Fellows, and Teaching Affiliates are invited to join us for great conversation and food – celebrating the accomplishments and contributions you each have made to the CFT across the years.
Anniversary events will begin at 4:00 pm on Thursday, September 8th, featuring welcoming remarks from Vanderbilt Chancellor Nicholas Zeppos and a keynote presentation by Ken Bain, followed by a reception. At 6:30pm a special reunion dinner will be hosted for those involved in the past and present of the CFT.
Reunion Dinner & Celebration will be on September 8, 2011 at 6:30 pm for those involved with the past and present of the CFT. The Reunion Dinner will be hosted at Scarritt Bennett (1008 19th Avenue South, Nashville, TN 37212) located just down the street from the CFT amd will include a buffet-style dinner (with vegetarian options) and dessert. RSVP for the Reunion dinner for yourself (and a guest, if you wish) using the E-vite that was email to CFT staff emailed separately.  (Didn't get an e-vite? Request one.) Parking is available after 3:00pm for those attending the keynote and/or the Reunion Dinner.
On Friday, September 9th, the Center will sponsor a symposium exploring the landscape of teaching and learning in higher education across the country, as well as innovative and exemplary models in place at Vanderbilt.  A roundtable lunch discussion with Ken Bain, focusing on strategies and research-based implications for the future, will conclude the symposium.
We look forward to seeing you there, sharing stories, and celebrating the past 25 years!
For more details on the 25th Anniversary events occurring on both September 8th and 9th, please visit the CFT's website.
Whether you'll be able to join us in person or not, we'd love to hear your CFT memories. Please send stories, highlights, and questions to Melissa Penix and keep your eye on wp0.vanderbilt.edu/cft for updates.