25th Anniversary Symposium on the Future of Teaching, September 9th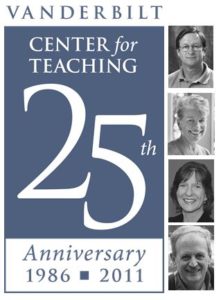 Join us for the Center for Teaching's 25th Anniversary Symposium on Friday, September 9th, on the 2nd floor of the Commons Center. Faculty, students, and staff are invited to discuss a set of themes that the CFT has identified as likely to affect teaching and learning at Vanderbilt over the next several years: economic challenges, changing technologies, and social responsibility.
We'll have more on the Symposium themes here on the blog in the next week. In this post, we'll describe the format of this unique event.
The Symposium will begin at 9:10 with opening remarks by Tim McNamara, Vice Provost for Faculty, and Derek Bruff, CFT Acting Director. Then the three featured faculty panelists–Cecelia Tichi (English), Cynthia Paschal (Biomedical Engineering), and Marshall Eakin (History)–will introduce and frame the Symposium themes, giving participants a sense of why we as educators at Vanderbilt need to attend to them.
After the introductory session, participants will move into breakout sessions (10:10-11:00 and 11:10-12:00). Each breakout session will focus on one of the Symposium themes, allowing participants to explore these themes through group discussions led by CFT staff.  In the first hour, we'll discuss ways these themes play out at Vanderbilt now, and in the second hour, we'll ask, What can we as individuals and an institution do in response to these challenges?
The final hour of the Symposium (12:10-1:00) will include lunch (provided by the CFT!) and feature closing remarks by the three faculty panelists, by Ken Bain (founding director of the CFT and keynote speaker at our anniversary event the day before), and by Derek Bruff.
Can't attend the entire event? That's okay. Peter Durand and his fellow graphic recorders from Alphachimp Studio will be on hand throughout the day to capture the discussions through words and images. If you miss one or more of the sessions, you'll be able to catch up (at least a little) by viewing these visual notes. Below is an example of Peter Durand's work, from the TEDxNashville conference back in April.
You can see more examples of graphic recording on the Alphachimp website.
Next week's Symposium will give the Vanderbilt teaching community a chance to participate in a kind of discussion in which we rarely engage: one that considers broad trends in higher education and their impact on Vanderbilt's future.  The CFT is hoping that a number of joint CFT-faculty initiatives, such as working groups or research projects, will emerge from this event and that the Symposium discussions will inform our ongoing work for the next few years.
More information about our 25th Anniversary events is available on our website.
Let us know if you'll be attending this event by sending a quick RSVP.