Symposium Spotlight: Changing Technologies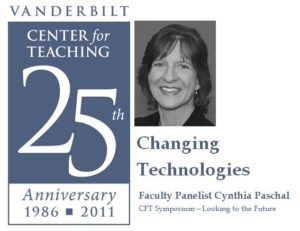 Many students carry around phones with far greater capabilities than the computers that helped humans land on the Moon.  Social media such as Facebook and Twitter have changed the ways that many of us interact personally and professionally, both online and off.  Access to information online has increased significantly in recent years, although locating useful and reliable information online has arguably become more difficult.
In the Educause Quarterly article "This Visible College," Bryan Alexander identifies three major forces at play when it comes to technology and education: social media, mobile computing, and open content. Alexander goes on to point out, "Social media has passed the point of being The Next Big Thing and is now merely
A Very Big Thing, or something like the web's default setting." What implications do these changing technologies have for the ways teaching and learning occurs at Vanderbilt?
Click on the infographic to the right and learn more about how colleges and universities are leveraging social media.
The Symposium will begin at 9:10 with opening remarks by Provost Tim McNamara and CFT Acting Director Derek Bruff, and then each of the three featured faculty panelists – Cecelia Tichi, Cynthia Paschal, and Marshall Eakin – will speak for 10-12 minutes on one of the themes. Faculty, students, and staff are welcome to attend all the sessions or drop in for an hour or two as they are available.
The Symposium will be held on the 2nd Floor of The Commons, in rooms 235-237. Let us know if you'll be attending this event by sending a quick RSVP.