CFT 25th Anniversary Event: How to Foster Deep Learning Keynote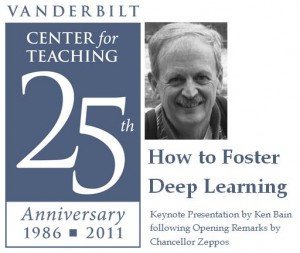 Join us later this week to celebrate 25 years of the Vanderbilt Center for Teaching's commitment to excellence in teaching and learning.  Anniversary events begin at 4:00 pm on Thursday, September 8th, featuring welcoming remarks from Vanderbilt Chancellor Nicholas Zeppos and a keynote presentation by Ken Bain, followed by a reception. This event will take place at the Board of Trust Room in the Student Life Center. Please RSVP for this event.
Bain's keynote, How to Foster Deep Learning, will be a highly interactive session in which participants will explore the results and implications of a fifteen-year study of highly successful university educators, people who have achieved extraordinary success in fostering remarkable learning among their students by addressing these questions: How can we create learning environments that will have a sustained, substantial, and positive influence on the way our students will subsequently think, act, and feel? What do the best teachers do that enables them to foster deep learning among their students?  How can we foster the development of adaptive experts, people who both recognize and relish the opportunity and the necessity for invention and who develop the deep conceptual understanding that allows them to think creatively and critically in a wide variety of circumstances?  How do we promote deeper learning among our strategic students, those who focus primarily on making high grades rather than on understanding, application, analysis, synthesis, evaluation, and ability to theorize?
Ken Bain is Vice Provost for University Learning and Teaching and Professor of History at Montclair University.  As the principal investigator of a 15-year study, he wrote What the Best College Teachers Do (Harvard University Press, 2004), an award-winning volume now translated into 10 languages.  He was the Founding Director of the Vanderbilt Center for Teaching, and then established three other major teaching and learning centers: the Searle Center for Teaching Excellence at Northwestern University, the Center for Teaching Excellence at New York University, and the Research Academy for University Learning at Montclair.
On the following day, Friday, September 9th, CFT Anniversary events continue with a half-day symposium looking ahead to the future of teaching at Vanderbilt, featuring faculty panelists Cecelia Tichi, Cynthia Paschal, and Marshall Eakin.  Details on these events can be found online.
We hope you'll be able to attend at least one of our 25th anniversary events.  If you'll be attending either event, please send us a quick RSVP.