GradSTEP recap: Teaching Portfolios
This blog post is written by Leanna Fuller, CFT Senior Graduate Teaching Fellow. Leanna led the Teaching Portfolio session at GradSTEP on January 21, 2012.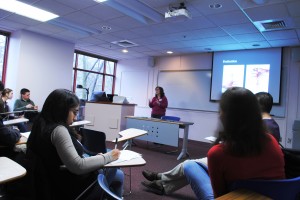 I began my GradSTEP session on teaching portfolios by inviting participants to wrestle with the following question: "Who are you in the classroom?" By asking this question, I wanted to emphasize that the purpose of a teaching portfolio is to paint a picture of a teacher's specific approach to instruction, so that the reader can easily imagine that person teaching. In other words, a teaching portfolio shouldn't be a "one size fits all" kind of thing. Instead, it should be a unique collection of materials designed to present one's teaching in the best possible light.
Since this workshop focused on developing a teaching portfolio for use on the job market, we covered lots of basic information about what teaching portfolios are, what to include in them, and what roles they might play in the interview process. Consequently, we used the following working definition of a teaching portfolio:
A public representation of one's teaching as a scholarly activity
Documented evidence of teaching from a variety of sources, with context provided
A collection of materials that shows development of one's teaching over time and reflection on one's teaching
Of course, there are many different kinds of material that one might include to craft a teaching portfolio that meets the criteria listed above. (See our Teaching Guide on teaching portfolios for an extensive listing of things you might include). For the purposes of this session, we focused on three items that most graduate students are likely to have:
A teaching statement, also called a statement of teaching philosophy (for resources related to writing a teaching statement, click here to download a handout)
Sample syllabi, either from courses you have taught or those you'd like to teach
Student evaluations
Whether or not you are including all of these elements in your teaching portfolio, it is important to follow these two key guidelines:
Contextualize all parts of the portfolio. For example, if you include a lesson plan, you should describe the course, the students, and how well it worked. If it is a lesson plan you have not yet used, you should explain why you chose particular approaches or exercises, and what effect you hope those choices will have on student learning. Without these contextualizing details, the pieces of your portfolio may feel too generic, and will not further your overall goal of illustrating who you are in the classroom.
Be selective in what you include. A small set of well-chosen documents is better than a large, unfiltered collection, which might overwhelm your readers. At the same time, though, it's important to represent a cross-section of your teaching, not just one aspect. So, for instance, if you have experience both with delivering lectures and leading discussions, you'll want to represent both of those skills adequately in your portfolio.
After extensive discussion of these points, we spent a few minutes thinking about the relative benefits and drawbacks of hard copy vs. online formats for teaching portfolios. As part of this conversation, I showed the group some examples of online portfolios (if you'd like to see some, click here http://trc.virginia.edu/Workshops/Teaching_Portfolio/Web_Portfolios.htm or here   http://cetalweb.utep.edu/index.php/resources/o-teaching-portfolios).
We ended the session by reflecting on the following questions:  What kinds of things would you like to include in your teaching portfolio? How will these elements help to portray the image of yourself you came up with earlier? Answering these questions helped bring the discussion back to the central purpose of a teaching portfolio:  providing a portrait of who you are as a teacher by demonstrating that you are a reflective practitioner. If you keep this purpose in mind as you put your portfolio together, you will have a better chance of helping future employers imagine how you would utilize your skills in the classroom.