ShareFest: A Showcase of Emerging Communication Strategies – Today at 4pm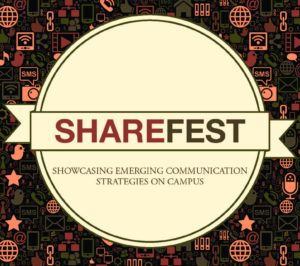 ShareFest is a showcase of emerging communication strategies scheduled for 4:10 to 5:30 p.m. today at the First Amendment Center, with a reception following. Expect a fast moving, interactive format featuring a variety of innovative communications strategies used on campus. Speakers and topics include:
Faculty, staff, and students interested in effective and efficient communications in the classroom, on campus and in the community–all are invited to attend. The event is sponsored by the Center for Student Professional Development, the Curb Center at Vanderbilt, and the Center for Teaching.
For more information, see the ShareFest website. Also, follow the conversation on Twitter at #ShareFestVandy.