The Flipped Classroom, a Conversation on Digital Pedagogy, April 7th
by Derek Bruff, CFT Director
On March 19th, the CFT and the Vanderbilt Institute for Digital Learning (VIDL) hosted the first in a series of Conversations on Digital Pedagogy. These conversations are meant to provide members of the Vanderbilt teaching community opportunities to learn from each other as they explore creative and effective uses of educational technology.
The first conversation focused on the use of Twitter in teaching, and featured panelists Aimi Hamraie, Assistant Professor of Medicine, Health, & Society (@aimihamraie); Don Rodriques, PhD student in English (@donrodrigues); and Vivian Finch, PhD student in German (@vivianfinch).  All three panelists shared fascinating ways they've used Twitter to engage students in deep learning and to build community in their classes. For a sense of the conversation, see this collection of tweets from the event, compiled by VIDL Graduate Fellow Zoe LeBlanc. And for the full conversation, watch this video of the event at the bottom of this blog post. See also this collection of resources on using Twitter in teaching on the VIDL blog.
Our second Conversation on Digital Pedagogy will be next Tuesday, April 7th and will focus on the use of technologies to support "flipped" classrooms. The conversation will be held from 12:15 to 1:30 in Kissam 216 and features panelists Katherine Friedman, Associate Professor of Biological Sciences; Jesse Blocher, Assistant Professor of Finance; and Emilianne McCranie, PhD student in chemistry. Kathy and Emilianne are both participants in the BOLD Fellows program here at the CFT, and Jesse is one of our Junior Faculty Teaching Fellows this year.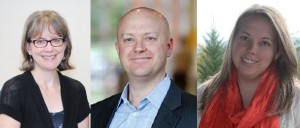 I hope you'll join us for this conversation. You can register for the event here, and you can follow the backchannel conversation on Twitter by searching for #VUdigiped.
Also! Later that same day, April 7th, journalist and author Jeff Selingo will present the first Schmidt Family Educational Technology Lecture at the School of Engineering. See this blog post for information on Selingo's talk, which will consider the impact of educational technology on the future of higher education.