BOLD Fellow's Work Highlighted on American Society for Microbiology Education Blog
by Rachel Biel, CFT Undergraduate Intern
In this edition of the CFT blog, we want to highlight the work of a past Blended & Online Learning Design (BOLD) Fellow, Noah Green. Noah was a BOLD Fellow during the 2014-2015 academic year, and finished his doctoral studies in biological sciences in May of 2015. He currently is still with the CFT as a postdoctoral fellow.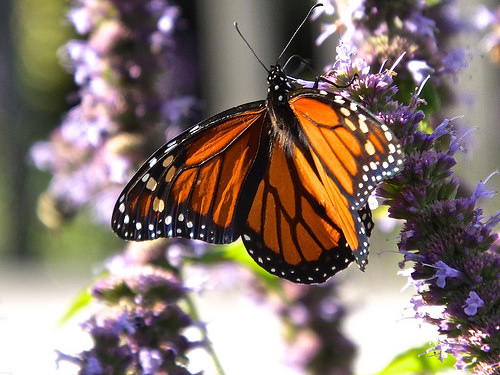 As a BOLD Fellow, Noah worked with Dr. Douglas McMahon, Professor of Biological Sciences, to develop an online module for Professor McMahon's biological blocks course (BSCI 232). Together, Noah and Dr. McMahon identified the opportunity to develop an online tool to help students better understand the concept of "time compensated sun compass navigation". Noah describes this as "how animals can use the time of day (measured by their internal circadian clocks) and the position of the sun to navigate in a constant direction." Because of its multivariable nature, students consistently have difficulty grasping this process.
The online module Noah designed implements active learning principles through instructional videos, practice problems and an interactive diagram to help students comprehend time compensated sun compass navigation. The module focuses on the example of the eastern North American monarch butterfly, which uses this form of navigation to travel from the northern US and southern Canada to central Mexico. This educational intervention significantly improved students' understanding of time compensated sun compass orientation as well as their ability to solve complex problems involving principles associated with this process.
Click here to visit the Eastern North American Monarch Butterfly Migration and Navigation page.
The American Society for Microbiology has published Noah's work with Professor McMahon in the December 2016 issue of the Journal of Microbiology & Biology Education. Noah's research was also selected to be featured in ASM's education blog.
Noah's module successfully uses online instructional materials grounded in good course design to improve students' learning outcomes in the biology classroom. This concept of teaching-as-research promotes thoughtful course design that incorporates the most current educational findings. The BOLD program facilitates these kinds of educational interventions by partnering graduate students and faculty members to develop online instructional materials to address a teaching challenge in one of their courses. Feel free to visit the BOLD web page to learn more about the program and explore other projects like Noah's!