Be part of one of the new or continuing learning communities at the CFT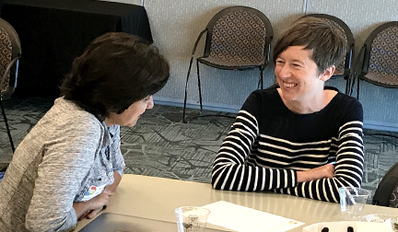 The Center for Teaching hosts a number of learning communities, intended for members of Vanderbilt's teaching community interested in meeting over time to develop deeper understandings and richer practices around particular teaching and learning topics.  This year's learning communities are:
---
Teaching, Difference, and

Power: Empowering International Students and Faculty
This year, the CFT continues its attention to issues of teaching, difference, and power by organizing a learning community dedicated to understanding and supporting the needs of international students and faculty. The hope for the group is to have a dynamic discussion of the many issues that arise for international students and faculty in the U.S. classroom, and the teaching approaches that may help both to thrive. The learning community meetings will involve informal discussions of pedagogical readings, teaching challenges, and practical strategies for improving our teaching and learning.
The learning community will be open to both faculty and graduate students and will meet several times throughout the academic year.
---
Teaching Digital Literacies
How can we prepare students for a world where they both consume and produce media in a variety of digital forms? In this learning community, we will explore ways to teach digital literacies, the skills and competencies students need to thoughtfully learn, participate in, and contribute to our digital and multimedia culture.
How can we help students become more critical consumers of information on social media?

How can we design authentic, multimodal assignments that prepare students to communicate effectively online?

How can we encourage students to engage in civil and productive dialogue in digital environments?

How can we collaborate with others to teach students skills we ourselves are still learning?
We'll consider these and other questions through a series of conversations this year at the Center for Teaching.

---
Active Learning
Active learning approaches improve students' learning and have been shown to reduce disparities between different student subgroups. This leaning community will explore the principles behind effective active learning and will work together to develop individualized approaches for participants' courses.
---

Teaching Design Thinking
Design thinking, also called human-centered design, is an approach to creative problem solving useful in a wide variety of contexts. The learning community will be particularly useful for faculty and staff working with students in curricular or co-curricular contexts as part of Vanderbilt's DIVE (Design as an Immersive Vanderbilt Experience) initiative, but all members of the Vanderbilt community interested in teaching design thinking are welcome to participate.
---