Apply Now for the Online Course Design Institute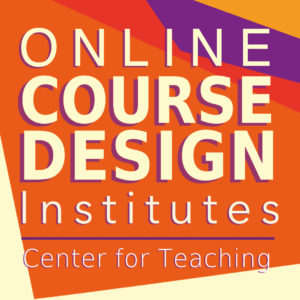 The Center for Teaching invites Vanderbilt faculty, postdocs, and graduate students to apply to its new Online Course Design Institute, a two-week online experience intended to help participants prepare to teach an online course. The Online Course Design Institute will be offered multiple times this summer and we are now accepting applications.
During the institute participants will:
Develop a course plan for their upcoming online course, one that integrates learning objectives with assessments, assignments, and activities;

Build one or more sample modules for their courses, practicing the skills they will use to build other modules;

Plan strategies for helping their online students thrive, including strategies for promoting meaningful interaction, social presence, and equitable learning; and
Learn about the affordances of online teaching tools, identify tools that align with their goals, and develop practical skills using those tools.                                                                                                                                 
How do I apply?
The Online Course Design Institute is open to all Vanderbilt faculty members with teaching responsibilities, as well as graduate students and postdocs who will be serving as instructors of record at Vanderbilt. Visit the Online Course Design Institute webpage for details and to apply.