CFT Helps Faculty Prepare for Adaptive Teaching
Originally posted on myVU.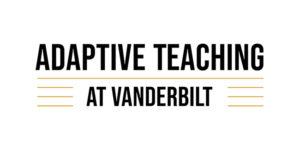 The Center for Teaching launched new programs this summer to help faculty prepare for adaptive teaching this fall. The centerpiece of these efforts was the Online Course Design Institute. A total of 490 faculty and other instructors completed the institute, which was offered every two weeks throughout the summer. Participants came from departments and programs all over campus to develop course plans, design online learning materials, learn how to help students thrive, and build skills with educational technology.
"In this exceptional year, we have seen exceptional participation in our programs," said Derek Bruff, director of the Center for Teaching. "Our mission is to help faculty teach effectively in whatever teaching contexts they find themselves, and that mission has never been more important than it is this year."
Half of the small cohorts in the Online Course Design Institute were led by senior staff from the CFT, and half of the cohorts were led by Blended and Online Learning Design (BOLD) Fellows. Twenty-five faculty and one graduate student served as BOLD Fellows this summer, lending their disciplinary and pedagogical expertise to help their colleagues prepare for the fall.
"When asked to support their colleagues, the BOLD Fellows did not hesitate to do so, generously sharing their expertise and experience," said Joe Bandy, assistant director at the Center for Teaching. "During this period of uncertainty and stress, they, along with the CFT staff, offered many practical teaching strategies—and no small amount of care and community—when both were sorely needed."
The CFT also offered a number of virtual teaching workshops this summer focused on online and hybrid pedagogy, Brightspace and other technologies, and inclusive teaching, among other topics. A total of 753 individuals attended these workshops, including 570 faculty representing all of Vanderbilt's colleges and schools.
"The level of commitment, creativity and thoughtfulness that faculty brought to our teaching workshops was inspirational," said Cynthia Brame, associate director at the CFT. "I am excited to see how they shape courses for Vanderbilt students this fall."
The Center for Teaching's new Online Teaching Visits program helped faculty learn from each other's teaching choices by providing access to colleagues' courses on Brightspace. The program also included Zoom conversations between hosts and visitors to discuss teaching choices. A total of 82 instructors visited 24 different courses as part of this program. "The sense of community among faculty this summer was impressive," Bruff said. "With so many faculty learning new principles and practices for teaching online, I was glad we could help provide opportunities for faculty to learn from and with each other."
Meanwhile, Brightspace support at the CFT responded to more than 3,000 email and phone requests from faculty and other instructors for technical or pedagogical assistance from May 1 to Aug. 19. This support volume was three times that of the same period last year, and up four times over the period of Aug. 1–19.
"Our team has had all hands on deck this summer to ensure that instructors have the resources they need to make their courses accessible and effective through Brightspace," said Paige Snay, lead instructional technologist at the CFT. "Remote learning presents unique challenges, but we're confident they can be overcome with thoughtful course design. That guidance is exactly what we're working to provide."
The Center for Teaching continues to offer programs and services for the Vanderbilt teaching community as faculty adapt to changing circumstances this fall and prepare for spring courses. See the center's Adaptive Teaching page for information and resources.