"It gets us away from staring at all these little boxes on the screen—it gets us all on the same side looking at something else.": Jesse Blocher talks about his Fall 2020 hybrid course.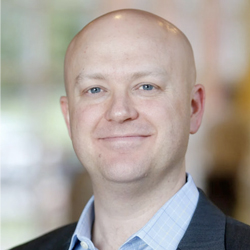 Jesse Blocher, Associate Professor of the Practice for Finance and Data Science, recently joined Marcy Singer-Gabella and Julie Johnson for a Conversation on Teaching about the hybrid courses they taught in Fall 2020. You can see the recording of the entire session here.
In the clip below, Jesse shares key lessons about how he uses the online whiteboarding tool Mural in multiple ways:
As an introductory tool to help students get to know each other and find connections
As an organizational tool to show how the course elements fit together
As a metacognitive tool to help students track what they know, what they want to learn, and what they have learned (KWL)
Jesse highlights how using this interactive tool can not only promote collaboration but also give students (and faculty!) a break from staring at others' faces.
Jesse also talks about how he structures his modules in Brightspace to help keep students on track. He's gotten great feedback and thinks it helps students manage their cognitive load while being sure they're caught up and ready to go for his class.
Watch this short clip from Jesse Blocher