"One of the things that putting the course online forced me to do was to do was to go back to bare bones, like what are the goals?": Diana Heney talks about her synchronous sessions in her online courses.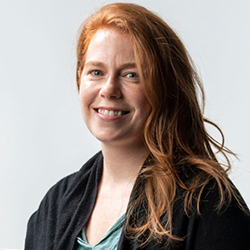 Diana Heney, Assistant Professor of Philosophy, recently joined Thomas Clements, Kathy Friedman, and Jessica Watkins for a Conversation on Teaching about their approaches to synchronous sessions in online courses. You can see the recording of the entire session here.
In the clip below, Diana describes specific ways that she shaped the two classes she taught this fall—one of them an introduction to medical ethics, which was a W course, and the other an elective on ethics and mental health.
In the W course, she divided her synchronous sessions into three categories: discussion groups, writerly tasks, and writing workshops. The teaching assistant for the course took the lead in the discussion groups, while Diana led the writing-intensive segments.
She asked students how they wanted to run breakout rooms, giving them options (from a 30-person philosophical melee to micro-lecture/target question/small groups/big group) and used their responses to organize time together.
As many faculty do, she spent time gathering students' responses to readings and using those responses to shape discussion—but the way she did it was to graph students agreement with an author's claims and then to ask students in the class to interpret the graphs. It proved a really interesting way to stimulate discussion.
Watch this short clip from Diana Heney
.
.
.