"This gave them something concrete, so that when they were in small groups, they could compare and contrast, like, why did you draw this? And how does this connect to my understanding?": Jessica Watkins talks about her synchronous sessions in her Fall 2020 online course.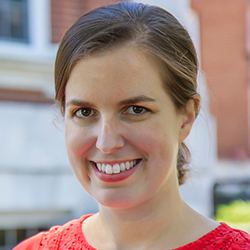 Jessica Watkins, Assistant Professor of Teaching & Learning, recently joined Diana Heney, Thomas Clements, and Kathy Friedman for a Conversation on Teaching about their approaches to synchronous sessions in online courses. You can see the recording of the entire session here.
In the clip below, Jessica describes specific ways that she promoted small group discussion in her course this fall.
She really leaned into having students do preparation for this discussions before class, often using Google tools (e.g., slides, Jamboard) for students to display their thinking. For example, she asked students to come up with a visual model of a concept from their reading. She then used these to give students concrete prompts to foster small group discussion. She shares more examples in the clip.
To avoid the awkward effects of the instructor dropping into breakout rooms, Jessica would give students a task to work on that she could monitor without going into the breakout rooms. For example, she had small groups identify connections among readings and ideas using Google slides.
Watch this short clip from Jessica Watkins
.
.
.