Digital Media Lab Open House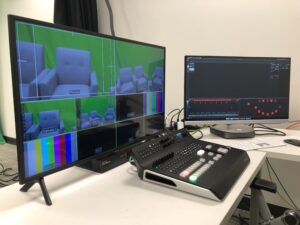 Date: Monday, August 23rd
Time: 1:00-3:00pm
Location: Digital Commons, 1101 19th Ave. South, Room 012
Facilitators:
Rhett McDaniel, CFT assistant director
Tracye Davis, digital media specialist
Seth Shepherd, digital media specialist
Visit the CFT's new Digital Media Lab located in the Digital Commons. This new facility provides instructors with the software, equipment, environment, and instructional staff needed to help you learn how to create high-quality resources for your courses.
Bring with you any ideas for media elements you've been considering adding to your course materials and we will help identify the equipment and skills you'll need to learn to make it happen.
No registration is required, but adding your name to this Google form will help us know how many visitors to expect.
Open to Vanderbilt Instructors
---
.
.
.
.