Spotlight Event: Teaching with Wikipedia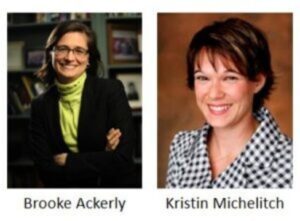 Wikipedia is home to over 55 million articles. The website is a valuable source for information, but it also has systematic knowledge gaps, as well as biases toward historically privileged perspectives. Vanderbilt political scientists Brooke Ackerly and Kristin Michelitch have been working to correct these gaps and biases by engaging their students as Wikipedia contributors.
Students are, in fact, the ideal Wikipedians according to Ackerly and Michelitch, given their access to scholarly resources and support from faculty and librarians, as well as their "semi-expert" status. Thanks to resources from Wiki Education and support from Vanderbilt librarians, these faculty have integrated Wikipedia into their teaching and seen benefits not only to Wikipedia, but also to their own students' learning.
In this spotlight event, Ackerly and Michelitch will share their experiences teaching with Wikipedia. They will be joined by their Vanderbilt Libraries collaborators, Cliff Anderson and Mary Anne Caton. The course-based assignments and extra-curricular "edit-a-thons" they've used can be adapted by faculty in a variety of disciplines.
Date: Tuesday, September 21st
Time: 3:00 pm – 4:00 pm
Location: Digital Commons, Room 200 (upstairs)
Spotlight Faculty: Brooke Ackerly, professor of political science, and Kristin Michelitch, assistant professor of political science
Sponsors: Digital Commons, Center for Teaching
---
.
.
.
.
.