CFT Partners with Divinity School to launch inaugural round of lifelong learning courses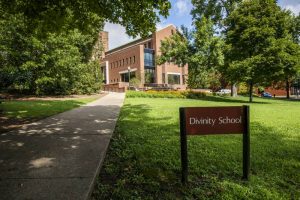 Vanderbilt Divinity School (VDS) has had a rich legacy of continuing education since the 1990s. Building on this legacy, in 2020,  the Lifelong Learning Committee proposed a comprehensive Lifelong Learning curriculum to meet the needs of the diverse audiences that VDS is uniquely positioned to serve. VDS Lifelong Learning has its roots in Vanderbilt's commitments to collaborate with the community. It aims to cultivate and nurture non-traditional students to become more thoughtful leaders, better understand the changing contexts in which they live, help them lead others more effectively, and build upon networks. In 2020 the Center for Teaching (CFT) also strengthened online instructional design expertise with the strategic hire of Julaine Fowlin, assistant director for instructional design.  The timing of both initiatives led to a partnership with VDS and CFT to work at the curricular level for lifelong learning. To capture the outcomes and lessons learned, Julaine hosted a panel discussion in the new Digital Media Lab with some VDS Lifelong learning committee members.
Laura M. Cheifetz, Assistant Dean of Admissions, Vocation, and Stewardship
Justine Chen, Director of Communications
Amy Steele, Assistant Dean of Students Affairs and Community Life,  and Chair,  of the VDS Lifelong Learning Committee
In the video series below, we learn what lifelong learning means to VDS, how they came up with the mission and vision for lifelong learning, and how utilizing the backward design process resulted in a solid curricular foundation and more meaningful course offerings. The panel discussion ended with advice for departments that may want to start similar initiatives.  Dean Cheifetz shared a compelling metaphor of soup and taking the time to do course design, "when you simmer a soup for longer, the flavor is better." Dean Steele also shared that the course design process allows us to view our curriculums as prisms or multi-angled. Viewing the curriculum from various perspectives enables us to ask the right questions and deliver courses that are more aligned with the needs of diverse learners.
Q:  What is VDS Lifelong learning?
Q: What was the process for coming up with the VDS Lifelong Learning Mission and Vision?
Q: What was the value of using backward design to develop program-level overarching understandings and essential questions?
Q: Can you give an overview of the first four courses?
Q: What advice do you have for others who would like to embark on course design for a continuing education program?
---
.
.
.
.
.