Excellence in (Student) Podcasting Submissions Now Open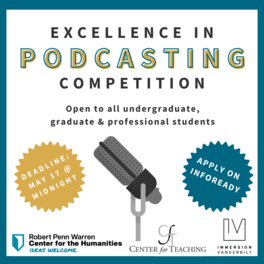 The Robert Penn Warren Center for the Humanities is sponsoring the second annual Excellence in Podcasting Competition, in collaboration with the Office of Immersion Resources and the Center for Teaching. We had really fantastic student submissions last year, and you can listen to the winning submissions on our podcast VandyVox.
If you know of students who have recently produced great audio (maybe as an assignment in your class!), please encourage them to submit that audio to the competition. There are cash prizes! See below for the official announcement with more information. 
---
.
.
.
.
.