Dealing with the Unexpected: Teaching When You or Your Students Can't Make it to Class
Cite this guide: Johnson, S.M. (2021). Dealing with the Unexpected: Teaching When You or Your Students Can't Make it to Class. Vanderbilt University Center for Teaching. Retrieved [todaysdate] from https://cft.vanderbilt.edu/guides-sub-pages/dealing-with-the-unexpected/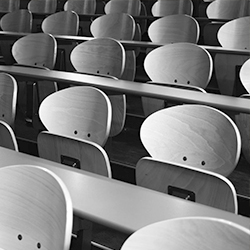 At a residential college like Vanderbilt, the time instructors and students spend together in the classroom is invaluable. For much of the academic year, scheduled classes meet at the appointed time without incident. A small percentage of students may have to miss any given class period, and most faculty have systems in place to prepare for such absences.
Yet, there are times when instructors or students cannot make it to class despite their best intentions because of illness, natural disaster, or other circumstances. Some reasons faculty and students may be unable to make it to class include:
Academic Travel
There may be times when a conference or other academic obligation requires a faculty member (or students) to miss class. Even if you plan to arrive back in Nashville in time to teach, what should you do in that rare case when cancelled flights or unpredictable obstacles keep you from your classroom?
Inclement Weather
Nashville's nearly annual snow or ice storm often wreaks havoc on face-to-face classes. If classes are officially in session, but many students (or even the instructor) are unable to make it to campus, how will faculty ensure that everyone has access to the course content?
Outbreaks of Communicable Illness
Adjusting our courses in response to illness and disease has always been part of our reality as a residential college.  A 2017 statement by the Provost about the mumps on campus and the 2021 coronavirus information page  reinforce the potential for illness of many kinds to affect attendance in our courses. Planning ahead for the potential course impact of illness will help minimize departmental and classroom disruptions even if the professor or students find themselves in quarantine.
Policies for Attendance
Attendance policies can be a controversial and complex in the best of times. This blog post by Erin Baldwin, Class of 2014, explores fair attendance policies from a student perspective. Erin describes how in her experience at Vanderbilt, she saw three different kinds of attendance policies.
Come when you can
Professors who use this approach generally leave it to students to decide when and how much to attend class, usually with the warning that missing class will have negative effects on the students; learning and test scores.
Participation points
This might mean that the instructor takes roll at every class session and then assigns a certain percentage of the grade as a formal participation grade. This might also mean that the professor uses clicker questions, polls, exit tickets, or other in-class work from students to assign a grade for that day. If you are not in class, you cannot get the day's grade.
Maximum number of absences
Erin also mentioned in her blog post that some of her instructors had policies regarding the maximum number of absences that students could incur in one semester, usually 3-5. After that number is reached, the student's final grade is penalized for subsequent absences.
For instructors who are grappling with how to set fair, useful attendance policies in a pandemic year, the issues raised by the aforementioned blog post are even more salient. How do we motivate student attendance without unfairly penalizing people in quarantine or who feel sick? Often, the policies in a syllabus represent ideal circumstances, not exceptions or worst-case scenarios. Even more than in previous years, many instructors find themselves grappling with how to set attendance policies that take into consideration how and when students will attend class. Some possible alternatives to traditional attendance policies include:
No-penalty policies
A no-penalty absence policy would lay out clearly what the attendance policy is for the class, but without any grade deductions or other penalties associated when students fail to meet the requirements. Such a policy starts by assuming that students want to attend class and want to be successful and then seeks to remove any pressure that would cause students to attend class even if they have been exposed to Covid or are feeling sick.
Alternative forms of participation
If your attendance policies include taking roll or monitoring participation, are there alternative ways that students can participate in class even if they are not in the room? For examples, the section below explores different ways to facilitate participation remotely. How many ways are there for students to get credit for their participation? Will these alternatives keep students safe while also ensuring that everyone is keeping up?
Participating in Class
A high absentee rate could interrupt the flow of your course, hinder the ability of students to complete assignments, or delay group work. So, providing alternative ways of participating in class is an important consideration. Here are four ways professors can facilitate student access, some of which might already be part of your teaching repertoire, and others that might require some preparation, flexibility, and perhaps even some additional technology. (Keep in mind that the CFT is always happy to help with the technology piece. You can email us at cft@vanderbilt.edu to connect with a consultant.)
1. Get the Notes
Perhaps the most common approach to dealing with student absences in pre-Covid times, this approach might be best described as:
"If you miss class, check the syllabus and get notes from a classmate."
Check the syllabus, get the notes! There are lots of ways to make this approach even more effective.
Encourage collaborative note-taking and/or note-sharing in a common repository. You can organize a collaborative doc like a Google doc or Box note and have students add notes to the same doc, or you can create a discussion board on Brightspace where students can all upload electronic versions of their notes from class. To increase the effectiveness of collaborative note-taking on a Google doc, you can add an outline of the day's lesson or lecture to the document. This can be the "agenda" for the class and also a place for students to add notes during class. The document then becomes a record of the day that everyone in class can access and benefit from.
*Note: Note-taking assistance is a common accommodation for students with accessibility needs. In addition to eliminating the stress of unwillingly missing class, this will also make your course more inclusive for other reasons.
O

rganize students into ongoin

g small groups

. Students

can

build trust and collaboration with their group through trust-building transactions throughout the

semester, will consistently work with each other for in-class activities, and will take responsibility for informing their missing group mates.
*Note: organizing students into consistent groups is also a useful tool in classes where students will be discussing difficult topics or completing group assessments. Especially when combined with group building activities like the ones described in this guide.
2. Do the Work Online
In some skill-building and discussion courses, students are not taking notes, but rather they are doing activities in class. Students are listening, talking, working in groups, and responding to problems posed by the instructor and their peers. This approach might be best described as:
"If you can't come in person, complete the work online."
Often, a great deal of that work can be done online as well (or occasionally even better) than it can be done in person. This is especially true in cases when face-to-face teaching means masks and social distancing. Using technology can often allow us to see each other's faces and hear each other's voices even more clearly than we can in person. If your in-class activity is already leveraging a tool like TopHat or Perusall, then making that activity available after class to students who miss is pretty easy. In other circumstances, you may want to create separate activities online for students who could not attend in person.
There are many tech tools licensed for use at Vanderbilt that will allow students to interact online as an alternative to in-person participation. For example:
TopHat – Top Hat is Vanderbilt's classroom response system, available for free to all faculty, staff, and students. Using Top Hat, instructors can pose polling questions and ask all their students to respond using their phones or laptops. Most Vanderbilt instructors use Top Hat in synchronous class settings whether in person or online, but it also has a variety of polling and engagement tools that work asynchronously.
Perusall – with this tool, instructors can post texts, videos, or audio files for students to annotate. Students can see each other's annotations and engage in discussion.
There are quite a few other tools already in the EdTech ecosystem at Vanderbilt including many Brightspace tools such as discussions, assignments, groups spaces, and more. You can always email brightspace@vanderbilt.edu to get help setting up or using any of these tools.
3. Watch the Lecture
For classes that have a heavy lecture component, the best approach to alternative class participation may be summarized with the instruction:
"If you miss class, watch the videos online."
This approach assumes that the professor has or is willing to create short lecture videos that cover the content that will be delivered in class. Videos can be created at home or at your desk using your computer and any one of the many tools available including the Kaltura My Media tool that is built into Brightspace or perhaps using a personal Zoom room. Videos can also be produced in one of the studios available to faculty through the Digital Media Lab in the Digital Commons. No matter what tools you use to create your videos, the guide Creating Effective Education Videos by Cynthia Brame can help to answer questions about what kinds of videos best support student learning.
One important consideration is whether to record videos outside of the classroom–which is more labor intensive–or during a live class lecture–which presents privacy and audio/video challenges.
Outside of the classroom:

Once you have short, stand-alone videos, they can be used this

semester

and in future semesters. The videos can contribute to a

flipped classroom approach

or can be supplements that you make available to students who

have to

miss the live lecture.

Recording these videos may mean doing "double duty" initially,

creating a

strain

on

instructor

time and

resources.

In the classroom: A few classrooms on campus are outfitted with microphones or other recording equipment

. However,

y

ou can

record from your laptop

live during class

i

n any space on campus

us

ing

Kaltura on Brightspace

or your personal Zoom room

.

While not as effective as having professional equipment to record a remote class session, it can provide students with what they need to stay up to

date.
*Note: As described in this guide, videos created during live class sessions might include some student voices or images, and in those cases should be considered FERPA-sensitive. That means that if you record yourself lecturing in a real classroom with real students and there is any possibility that students are included in the video, those videos should only be used for that particular class of students and not shared with other courses or with future students.
4. Zoom in
In 2020, the practice of having students remotely attend an in-person class became widely known as "Hyflex" or just "hybrid". Some students are in the room, and some are on Zoom. In these circumstances, an instructor might have told students:
"You don't have to miss class; you can Zoom in."
This approach tends to be much more work for instructors because it requires them to manage two different modalities, each one with their own set of challenges. In 2020 when hybrid teaching was the norm, the CFT produced resources to help faculty navigate this challenging format including this post by Derek Bruff and this one from Jesse Blocher. Another downside of this approach is that it does not help students who are too sick to attend a live lesson via Zoom and need to complete the work at a later date.
At Vanderbilt, this approach is not in line with school policies in most circumstances. If you have questions, check with your chair or dean to determine what approaches are best for an in-person semester.
Communicating with Students
Whether you or your students are unable to make it to class, there are technologies in place that can allow class to continue.
Take advantage of online discussion forums or chat tools to 1) help keep open the lines communication between you and students, and 2) give students opportunities to exchange ideas with each other. Brightspace support at the CFT has some resources to help you create and manage discussions. If the Brightspace discussion tool does not work for you, you might consider adding a chat tool like Slack or Teams to your course NavBar to integrate it into your course. If you want to learn more about teaching with chat tools like Slack and Teams, check out this recording of a 2020 CFT event all about teaching with chat and channel apps.
Consider using the announcements tool on the homepage of your Brightspace course as a consistent source of official course communications. In addition to seeing announcements in the course, students can adjust their notification settings to have announcements sent to their phones as text messages by following the instructions on this page. If students know that all important course information will come through a single, consistent channel, they are more likely to feel connected and up-to-date even during times of upheaval.
At this point most of us are familiar with how tools like Zoom allow instructors and students to meet online through video conferencing. These tools can also be used for private meetings with students, office hours, study sessions, and a variety of other kinds of meetings that will allow students to keep up with what is happening in class even when they cannot be there in person.
For assistance choosing or using tech tools for your teaching, please refer to the CFT's Brightspace on-demand resources page for resources, or consult with one of our instructional technologists via email at brightspace@vanderbilt.edu, by phone 615-322-0222, or by scheduling a consultation at the CFT.
Health and Safety Resources
Becoming familiar with the Vanderbilt's processes and guidelines regarding illness and emergency response will help you as you determine your classroom policies. The following resources may be useful as you provide recommendations to students and determine what kinds of alternatives to offer.
The Vanderbilt Emergency Preparedness and Planning site provides current information to help you plan accordingly. It includes travel advisories, guidelines for faculty and staff, a frequently asked questions page for students, and a list of healthcare providers.
.
.
---

This teaching guide is licensed under a Creative Commons Attribution-NonCommercial 4.0 International License.
.
.
.
.
.
.
.
.
.