Celebration of Learning: An Exhibition of Students as Producers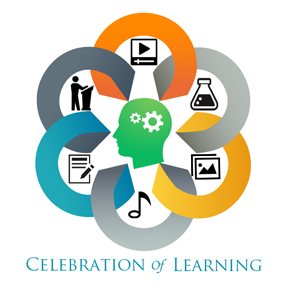 On February 13, 2020, the Center for Teaching will hold a Celebration of Learning, an exhibition of students as producers. The event will feature students from all over campus sharing what they have learned, created, designed, and discovered. See below for highlights from past events to get a sense of the variety of disciplines and project types you can expect to see at the Celebration of Learning.
Drop in between 2 and 4pm on the second floor of Alumni Hall for a picture of deep learning across the colleges and schools. Registration isn't required, but it would help if you could RSVP so we can plan our reception catering. Thanks!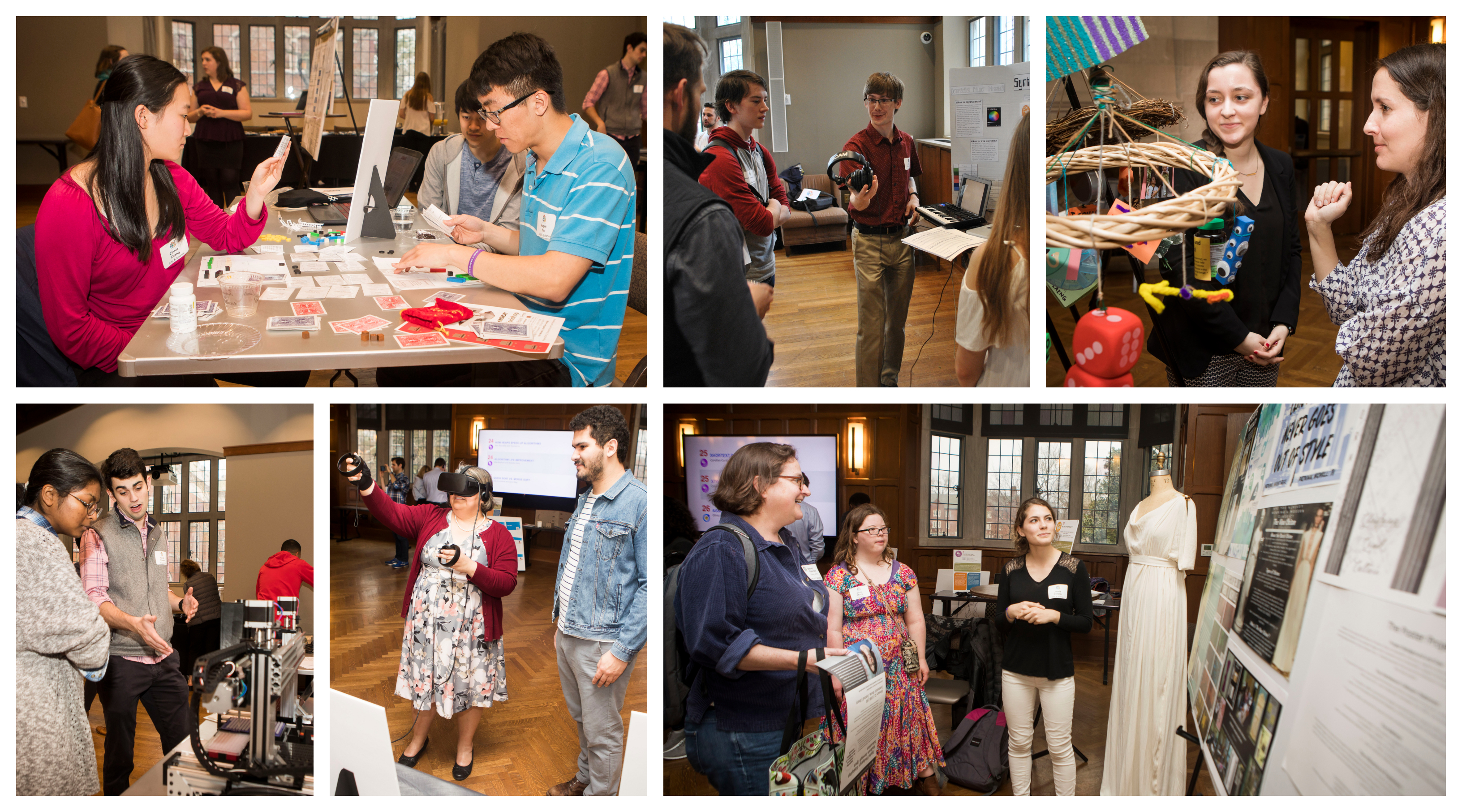 Faculty and other instructors:
We're inviting you to recommend students to participate in the Celebration of Learning. We are particularly interested in showcasing work done by students as part of courses taught at Vanderbilt in 2019. Have you asked your students to tackle open-ended problems, to operate with a degree of autonomy, or to share their work with wider audiences?
We're interested in all types of student projects—podcasts, Wikipedia entries, original research, board games, service-learning projects, digital stories, human-centered design, Twitter fiction, whatever! The event will be formatted like a poster session, but students don't need to have made posters—we'll accommodate just about any kind of student project.
To recommend a student, please contact your student, tell them about the event, and ask them to complete this participation form by January 27, 2020.
Students (including undergraduate, graduate, and professional):
We would love for you to come to the Celebration of Learning and see what your peers have been learning and producing! Students planning Immersion projects are especially encouraged to attend. We expect you'll get some useful ideas for your own projects after seeing how other students have engaged in immersive learning experiences.
If you're interested in sharing your own work at the Celebration of Learning, we ask that you reach out to the instructor of the course in which you produced the work, or the faculty or staff member who mentored you, and ask them to recommend you for the event. Center for Teaching staff aren't in a position to evaluate the quality of work in a student project, so we're depending on our faculty and staff colleagues to recommend worthy projects.
2019 Highlights
"Campus Composting," A proposal for a sustainable solutionto the University's food waste. Through the human centered design thinking process, the benefits of composting were researched and students were asked their opinions of composting.
"TJBot Workshop Series," A sequence of training opportunities aimed at teaching participants about the inner workings of robots and how they are programmed through the construction and deployment of their own laser-cut, cardboard robot.
"Interactive Display of Research at Stevenson Center," an interactive display outside the Stevenson lecture halls that presents research in an informal and approachable way to undergraduate students. Users can also browse a library of videos detailing the work of a certain groups and whether they are interested in accepting undergraduates.
"Beyond Walls and Policies, Crisis at the U.S. Border," a video told from a student perspective overviews a trip taken by three Vanderbilt affiliates (1 professor and 2 professional students) and how students helped serve as interpreters to Central American Refugee Caravan that had made its way to the US-Mexico Border.
"Automated Liquid Handler," a robot that can perform common biological assays at the fraction of the cost of commercial options. This liquid handler was constructed from over 50 custom parts that were 3D printed out of plastic or machined out of aluminum.
"The J. Peterman Company Catalog Reimagined," a website replacing the luxurious descriptions for clothing items with descriptions of the sweatshops where many of our clothes actually come from in order to raise awareness to the continued existence of sweatshops.
"Inside Her Head," a multimedia experience that maps sounds to colors and projects corresponding colored lights onto musicians during a live musical performance to encourage greater understanding and accessibility of classical music.
2018 Highlights
At the 2018 event, more than 100 faculty, staff and students attended the event in Alumni Hall, which featured three rooms of student work: an exhibition hall with posters and projects, a digital media hall featuring podcasts and more, and a presentation hall with screenings and talks. Most all of the 34 projects on exhibit were created by students as part of coursework here at Vanderbilt. Students shared podcast episodes, short films, webcomics, manufacturing equipment, oil paintings, service learning projects, design thinking projects, laboratory research, a mural, a board game, a computer roleplaying game, a policy brief, a magazine, a photo essay, and much more.
All of these projects were the result of instructors who engaged their students not only as consumers of information, but producers of knowledge. The projects emerged from courses and other learning experiences where students were asked to tackle open-ended problems, to operate with a degree of autonomy, or to share their work with wider audiences. All of the projects were nominated by faculty members, and all were completed in calendar year 2017.

A student-faculty panel explored the teaching and learning dynamics in courses that lead to projects like the ones shown in the exhibition. Andy Rogers, who designed a video game adaptation of a Japanese myth for a course taught by Bryan Lowe, assistant professor of religious studies, discussed the challenge of creating in a new medium. Kevin Galloway, director of making at the Wond'ry, and students in his "How to Make (Almost) Anything" course shared their human-centered design process for solving problems for local nonprofits. And Carrie Plummer, instructor in nursing, and her student Roxanne Crittenden talked about the opportunities for learning that arise when students take on collaborative projects over multiple semesters.
The event concluded with prizes in three categories as voted on by event attendees:
The DO GOOD award for a project most likely to make a positive difference in the world went to "Vana Learning," software for improving interventions for struggling K-12 students designed by Robert Trone and Joshua Stafford as part of the Wond'ry's Pre & Post Flight program
The BE CREATIVE award for the project that demonstrated the most creativity also went to a Wond'ry project: "Wknot," an 8 foot-by-8 foot mural made of two miles of yarn by James Cavenaugh and Joshua Forges
The TELL A STORY award for the student who best told the story of their project went to Michelle Sidle for her presentation "Perspectives of Students with and without Disabilities on Inclusive Schools in India," an honors project mentored by Anjali Forber-Pratt, assistant professor of human and organizational development
See below for more information on some of the projects exhibited at the 2018 Celebration of Learning.

"Existing Quietly, Living Loudly," a first-person webcomic on identity and culture created by Elizabeth Lee that describes how her identity has been a significant lens through which she interacts and interprets the world around her.
"Waste Reduction for Turner Construction," a plan for how to reduce construction and demolition waste by creating a warehouse that buys unused construction materials and resells the materials to other contractors or families, sending less waste to dumpsters.
"Genetic Screen for Genes Involved in Paternal Mitochondrial DNA Elimination in C. Elegans," a genetic screen to identify genes involved in paternal mitochondrial DNA (mtDNA) elimination.
"Non-Cents and Sensibility," a podcast episode produced by Adam Gottlieb and Caroline Kohler exploring the issues that schools encounter in funding and how finances play a larger role in schools than some may think
"Cass Gilbert's Woolworth Building," an online exhibit designed by Buchanan Library Fellow Ellen Dement focused on 150 architectural drawings of the famous building recently acquired by the Vanderbilt Fine Arts Gallery
"Kandinsky Visualizer," visualization software created by Adam Merk that analyzes and displays sound through color implementing theories by Wassily Kandinsky that seeks to bring to life Kandinsky's theories concerning the experience of sound and color
"Vana Learning," a software application that adds data analytics (to deliver actionable insights) to the daily report card intervention strategy to deliver an effective academic intervention for struggling K-12 students
"Mean Sea Level Trends in Regions of the U.S.," a poster examining how sea level rise is affecting various regions of the United States in different ways, as well as the factors that influence this phenomenon
---