Service Learning for Sustainability Event Recap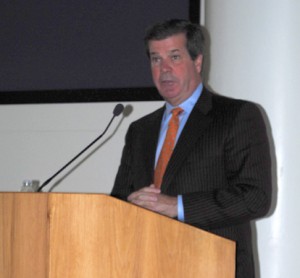 On November 12th, the Center for Teaching and the Tennessee Higher Education Sustainability Association (THESA) were proud to co-host a one day workshop integrating service learning and sustainability education entitled, "Service Learning for Sustainability."  Both service learning and sustainability are areas of innovation in higher education that share a commitment to place, to community engagement, and to high impact learning.
The event showcased the efforts of educators and community members across Nashville to create new synergies between teaching and community development, ones that yield high impacts for students and communities alike.  The day began with a message of encouragement from Nashville Mayor Karl Dean, who highlighted the bright future that is possible when Nashville's institutions of higher education reinvigorate the already strong volunteer spirit among Nashville's communities.
Doug Perkins from Vanderbilt's Department of Human and Organizational Development provided the keynote address, "Forms of Sustainability and Levels of Civic Education and Change: Beyond Service-Learning."
Other speakers included:
The afternoon workshop was focused on the pedagogy of service learning, especially those models of course design, developing partnerships, assessment, and reflection that are most likely to enhance learning and community impact.
For more information from the event, please visit our sustainability and service learning teaching guides where you may find teaching tips, PowerPoint presentations, and Podcasts of the speakers.