Graduate Teaching Fellows Program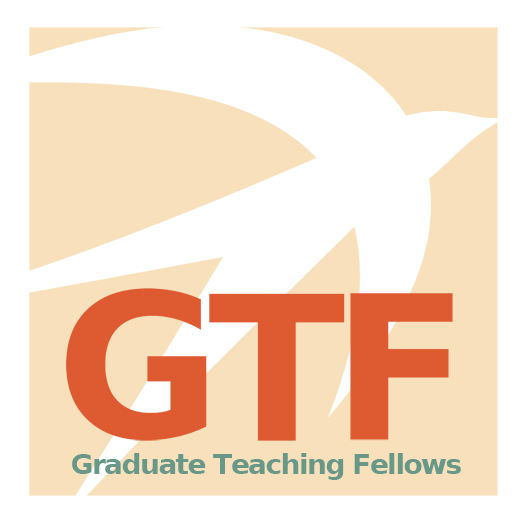 Each year we hire several Graduate Teaching Fellows (GTFs) as part of the CFT's efforts to mentor and train graduate students, including those serving as teaching assistants or instructors of record here at Vanderbilt and those interested in developing teaching skills for future faculty careers.  The GTF Program is a valuable professional development experience for graduate students interested in a career that involves teaching and/or faculty development.
Our GTFs consult with graduate students, many of whom are participants in our Teaching Certificate program; design and facilitate workshops for graduate students at Teaching Assistant Orientation and during the semester; and assist the CFT senior staff in various ongoing and short-term projects, including the creation of various online resources for the Vanderbilt teaching community.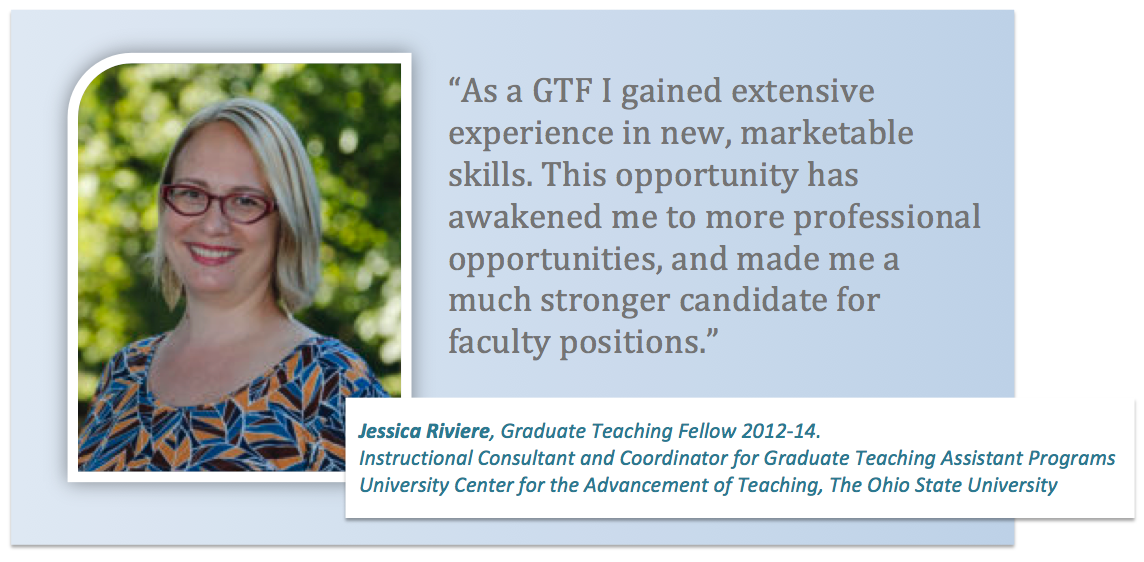 GTF Program Goals
Peer-to-peer interactions are often more effective for the development of teaching skills.
The GTFs provide the CFT with strong connections to their home departments.
We're able to offer more programs and services with the help of the fellows.
The position provides a unique professional development experience for graduate students.
The program helps the GTFs understand the broader world of educational development, how CFT fits into it, and possible career / professional development paths (if interested).
Current Graduate Teaching Fellows
L to R: Julie Sriken (Human & Organizational Development)
Nauff Zakaria (Graduate Department of Religion)
Jose Luis de Ramon Ruiz (Spanish and Portuguese)
Marta Eugenia Zavaleta Lemus (Anthropology)
Become a Graduate Teaching Fellow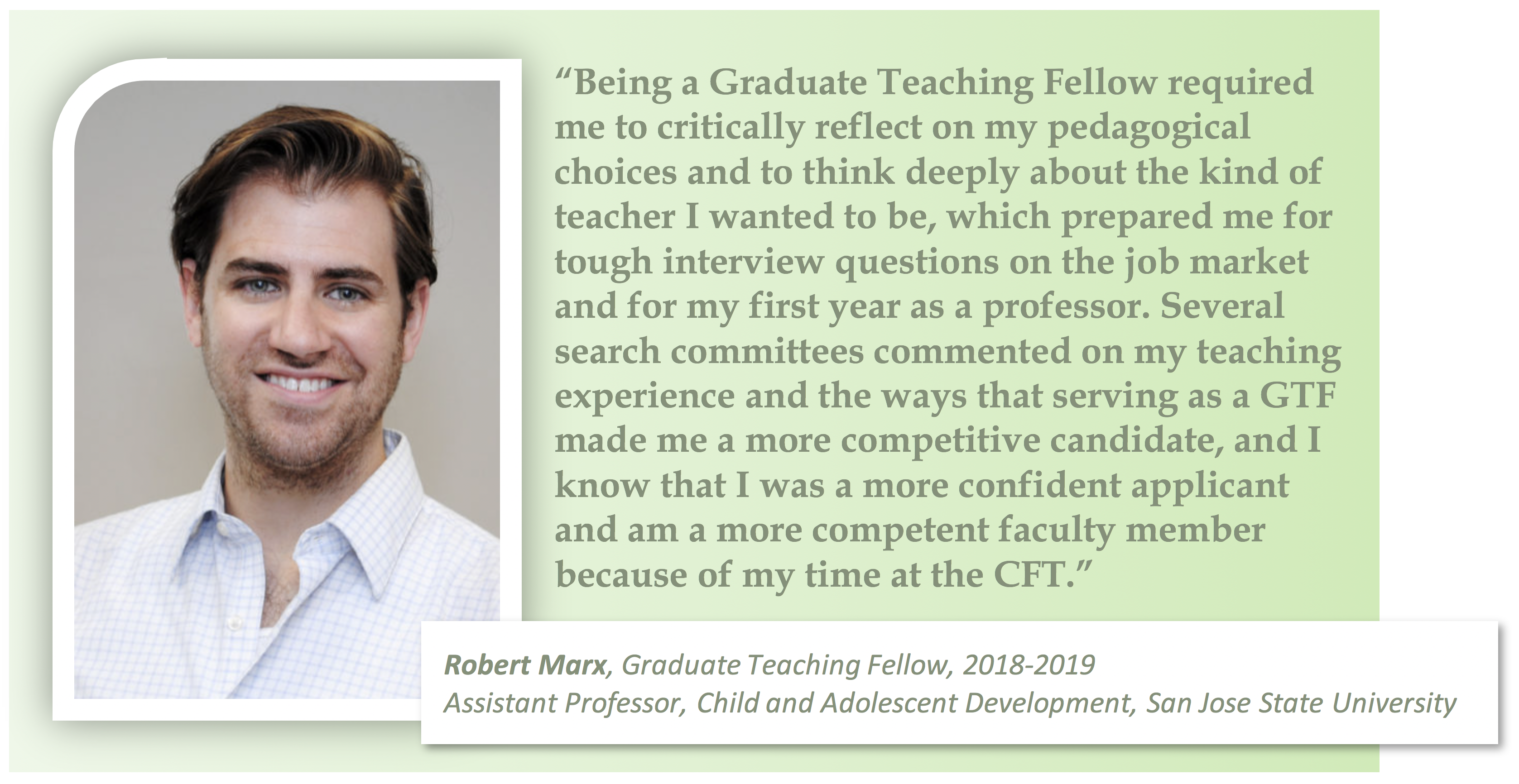 The online application for graduate teaching fellows can be found here.
QUALIFICATIONS:
Passion for teaching and graduate student development
Extensive classroom or lab teaching experience as a TA at Vanderbilt (or elsewhere) with evidence of teaching effectiveness
Ability to work independently and as part of a team
Strong interpersonal skills
Strong writing, communication, and planning/organizational skills
Flexibility, imagination, energy
Ideal candidate would have:
Completed one or more programs at the Center for Teaching
Have a well-developed, reflective teaching philosophy
Have experience planning events or programs
Have mentoring or consulting experience (formal or informal)
PRIMARY RESPONSIBILITIES:
Develop and present workshops for TA Orientation (TAO) as well as in response to special requests from departments
Conduct small-group analyses in TA sections and labs
Observe sections and labs of TAs (live or via video recordings)
Consult with TAs on their teaching
Assist with new and ongoing Center for Teaching projects
TIME COMMITMENT:
20 hours/week beginning July 1st:
Mid-May: Organizational meeting
Summer: Responding to e-mails
July: Training for CiCT, CHTL, consultations, and TAO.
Early August: TAO Training
Mid-August: TA Orientation
Shortly after TA Orientation: Debriefing activities and compiling materials from TA Orientation
Time off for Thanksgiving, winter, and spring breaks.
PAY:
$30,000 ($2,500/month), paid monthly July-June*
Graduate student health insurance paid (if needed)
*this is NOT a service-free stipend