Teaching at Vanderbilt (TAV)
"Teaching at Vanderbilt" will be held on Thursday, August 18, 2022.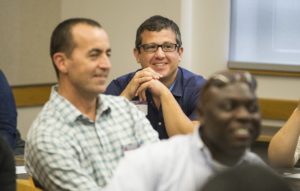 "Teaching at Vanderbilt" is the Center for Teaching's annual orientation for all new faculty, both full-time and part-time. The orientation features an introduction to strategies for launching a successful teaching career at Vanderbilt, with concurrent sessions on a variety of practical topics. Teaching at Vanderbilt is an opportunity for new faculty to meet each other and to learn how the Center for Teaching can support them throughout their Vanderbilt careers.
PLEASE NOTE: "Teaching at Vanderbilt" features specific strategies for launching your teaching career at Vanderbilt, and is distinct from and complementary to the more general New Faculty Orientation sponsored by the Provost's Office in August. Thus, faculty who will play an instructional role at Vanderbilt are encouraged to attend both events.
Register here for Teaching at Vanderbilt 2022.
---
Program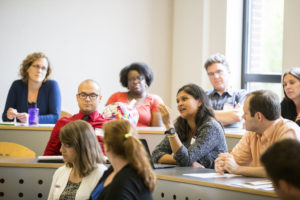 All sessions will be held in 1101 19th Avenue South, home of the Faculty Commons and the Digital Commons. See this map for its location.
1:30-2:00 – Check-in & Registration
The building's main entrance is just off the courtyard. Come through these double doors to check-in (if you have pre-registered for the orientation) or register at the door.
2:00-2:30 – Welcome Session (Derek Bruff, CFT Executive Director)
The opening plenary will be held in Room 200, the large event space on the second floor. Look for the directional signs or ask at the registration desk.
2:40-3:20 – Concurrent Sessions (Round 1)
During the first round of concurrent sessions, participants can select from several short workshops. See below for a listing of these workshops, which will be held in various rooms in the building.
3:30-4:10 – Concurrent Sessions (Round 2)
The same workshops from round 1 will be offered again during round 2, which means participants will be able to attend two different workshops during the afternoon.
4:20-5:00 – Faculty Panel Discussion
The closing plenary will be held back in Room 200, the large event space on the second floor. CFT executive director Derek Bruff will moderate a panel of faculty members who will share their experiences teaching Vanderbilt students. Panelists will be:
Nicole Joseph, associate professor of mathematics education
Douglas McMahon, professor of biological sciences
Elizabeth Meadows, senior lecturer in English
Thomas Withrow, associate professor of the practice of mechanical engineering
5:00-5:30 – Reception
The orientation will end with a reception on the ground floor of the 1101 building. Enjoy this opportunity to meet fellow incoming Vanderbilt faculty and to get better acquainted with the CFT senior staff serving as your department liaisons. You'll also have the chance to talk to representatives from some other offices on campus.
Register here for Teaching at Vanderbilt 2022.
---
Concurrent Sessions
Fostering Deep Thinking: Discussion Strategies 
Facilitator: Joe Bandy, Assistant Director, Center for Teaching
In this session we will consider some of the most significant challenges to leading generative and meaningful discussions and how we may overcome. We will explore a variety of techniques for organizing class discussions, effective methods of facilitation, and approaches to assessment that enable critical reflection and improvement.  By modeling some discussion leading practices and providing useful resources, this workshop will help you to engage students more fully and find greater joy in teaching.
Overcoming the "Busywork" Dilemma

Facilitator: Julaine Fowlin, Assistant Director for Instructional Design, Center for Teaching
The busywork dilemma is where students perceive that assigned learning activities or assessments are not meaningfully contributing to their learning. This can be very frustrating to instructors as they put a lot of effort and time into the design and implementation of these activities. While students' reasons for calling intentional learning activities busywork vary, and some are embedded in misconceptions of learning, there are a couple of common pitfalls to avoid. Learn about these pitfalls and practical ways to allow learners to see the relevance of learning and assessment activities explicitly.
Tools for Success: The Educational Technology Landscape at Vanderbilt  
Facilitator: Stacey M. Johnson, Assistant Director for Educational Technology, Center for Teaching
What educational technologies does Vanderbilt provide for teaching? What tools will your students need to know how to use? How can you go about getting the help you need to teach effectively? In this session, we will explore the educational technology landscape at Vanderbilt. Participants will leave equipped to get started with the right tools and seek out the support they need to use those tools well.
Designing an Inclusive Syllabus

Facilitator: Leah Marion Roberts, Center for Teaching
Inclusive teaching strategies help students learn by fostering a sense of belonging and engagement, while also helping professors be mindful about how power dynamics operate in a classroom. In this session, we will explore ways to practice inclusive teaching through the course syllabus. A syllabus can set a welcoming tone for a class, establishing not only the major course themes and topics, but also the expectations and policies for class culture, communication, grading, dealing with unforeseen circumstances, and more.
Building your Teaching Team: Working with Teaching Assistants (TAs)

Facilitator: Ransford Pinto, Assistant Director for Graduate Programs, Center for Teaching
Great teaching teams must be intentionally created and nurtured. In this session, we will discuss various strategies for building a strong teaching team with teaching assistants.
The Student Care Network and Supporting Students in Distress
Facilitator: Samantha York, Assistant Director for Academic Wellbeing, Center for Student Wellbeing
The Student Care Network is a holistic network of wellbeing resources designed to support the health and well-being of all Vanderbilt students. Learn more about the Student Care Network, how to best connect students with these helpful resources, and how to help support a student who may be in distress.
Register here for Teaching at Vanderbilt 2022.
---
After the Event
New and returning faculty members are invited to the CFT's annual August workshops. Topics include leading class discussions, syllabus design, presentation tools, inclusive teaching, educational technologies, and more. Information can be found on our workshops page.
Teaching Consultations
The Center for Teaching provides a wide range of programs, services, and resources to help instructors develop, refine, and reflect on their teaching. These include confidential individual consultation services.  Please contact the Center if you are interested in a conversation with a Center consultant on topics such as the following:
You're welcome to schedule a teaching consultation either before or after the Teaching at Vanderbilt orientation. Just call (615-322-7290) or email (cft@vanderbilt.edu) to schedule.