Teaching at Vanderbilt (TAV)
This event occurred on Thursday, August 19th, 2021
---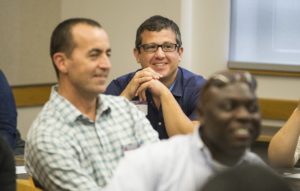 The orientation features an introduction to strategies for launching a successful teaching career at Vanderbilt, with concurrent sessions on a variety of practical topics. Teaching at Vanderbilt is an opportunity for new faculty to meet each other and to learn how the Center for Teaching can support them throughout their Vanderbilt careers.
PLEASE NOTE: "Teaching at Vanderbilt" features specific strategies for launching your teaching career at Vanderbilt, and is distinct from and complementary to the more general New Faculty Orientation sponsored by the Provost's Office in August. Thus, faculty who will play an instructional role at Vanderbilt are encouraged to attend both events.
---
Program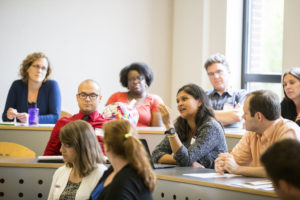 All sessions will be held in Featheringill Hall [map].
1:30-2:00 – Check-in & Registration
Featheringill 106
2:00-2:30 – Welcome Session (Derek Bruff, CFT Director)
Featheringill 134
2:40-3:35 – Concurrent Sessions
2:40-3:05 Session 1
3:10-3:35 Session 2
Participants can select from several short workshops during each concurrent session. Workshop descriptions are given below.
3:45-4:30 – Faculty Panel Discussion: Getting to know Vanderbilt students
Featheringill 134
In this plenary session, CFT associate director Cynthia Brame will share demographic information about Vanderbilt students and will moderate a discussion among several experienced faculty members. They will share reflections on their experiences with Vanderbilt students and the teaching and learning approaches they have found to be most useful. Panelists include:
Ravi Duddu, Associate Professor of Civil and Environmental Engineering
Melissa Gresalfi, Dean of the Ingram Commons and Professor in the Department of Teaching & Learning
Abby Parish, Director of Education Innovation and Associate Professor of Nursing
Gilman Whiting, Director of the Scholar Identity Institute and Associate Professor of African American and Diaspora Studies
4:30-5:00 – Reception
Featheringill 106
 Enjoy this opportunity to meet fellow incoming Vanderbilt faculty and to get better acquainted with the CFT senior staff serving as your department liaisons. You'll also have the chance to talk to representatives from some other offices on campus:
Melissa Mallon and Andy Wesolek from the Vanderbilt Libraries can connect you with librarians and research tools to make your life easier.
Samantha York from the Student Care Network can help you understand how to connect your students to the supports they need.
Nate Bell from Athletics Student Services can help you understand support provided for student-athletes.
Concurrent Sessions
Fostering deep thinking: Discussion techniques 
Facilitator: Joe Bandy, Asst. Director, Center for Teaching
Featheringill 110
In this session we will consider some of the most significant challenges to leading generative and meaningful discussions and how we may overcome. We will explore a variety of techniques for organizing class discussions, effective methods of facilitation, and approaches to assessment that enable critical reflection and improvement.  By modeling some discussion leading practices and providing useful resources, this workshop will help you to engage students more fully and find greater joy in teaching.
Overcoming the "busywork" dilemma

Facilitator: Julaine Fowlin, Asst. Director, Center for Teaching
Featheringill 136
The busywork dilemma is where students perceive that assigned learning activities or assessments are not meaningfully contributing to their learning. This can be very frustrating to instructors as they put a lot of effort and time into the design and implementation of these activities. While students' reasons for calling intentional learning activities busywork vary, and some are embedded in misconceptions of learning, there are a couple of common pitfalls to avoid. Learn about these pitfalls and practical ways to allow learners to see the relevance of learning and assessment activities explicitly.
Tools for success: The educational technology landscape at Vanderbilt  
Facilitator: Stacey M. Johnson, Asst. Director, Center for Teaching
Featheringill 134
What educational technologies does Vanderbilt provide for teaching? What tools will your students need to know how to use? How can you go about getting the help you need to teach effectively? In this session, we will explore the educational technology landscape at Vanderbilt. Participants will leave equipped to get started with the right tools and seek out the support they need to use those tools well.
Promoting student engagement using TopHat
Facilitator: Rhett McDaniel, Asst. Director, Center for Teaching
Featheringill 129
In this session you'll hear about Top Hat, Vanderbilt's student polling application. Top Hat allows you to ask multiple question types, receive responses, and generate discussions with real-time feedback and gradebook integration with Brightspace, Vanderbilt's course management system. Learn how you can use live polling to gauge student understanding during class and how both you and your students can better prepare for upcoming class meetings by using Top Hat's asynchronous capabilities.
Building your teaching team: Working with TAs

Facilitator: Ransford Pinto, Asst. Director, Center for Teaching
 Featheringill 138
Great teaching team must be intentionally created and nurtured. In this session, we will discuss various strategies for building a strong Teaching Team with Teaching Assistants.
The Student Care Network and supporting students in distress

Facilitator: Samantha York, Asst. Director for Academic Wellbeing, Center for Student Wellbeing
Featheringill 132
The Student Care Network is a holistic network of wellbeing resources designed to support the health and well-being of all Vanderbilt students. Learn more about the Student Care Network, how to best connect students with these helpful resources, and how to help support a student who may be in distress. 
After the Event
New and returning faculty members are invited to the CFT's annual August workshops. Topics include leading class discussions, syllabus design, presentation tools, inclusive teaching, educational technologies, and more. Information can be found on our workshops page.
Teaching Consultations
The Center for Teaching provides a wide range of programs, services, and resources to help instructors develop, refine, and reflect on their teaching. These include confidential individual consultation services.  Please contact the Center (322-7290) if you are interested in a conversation with a Center consultant on topics such as the following:
You're welcome to schedule a teaching consultation either before or after the Teaching at Vanderbilt orientation. Just call or email the CFT to schedule.
Traveling to the Center for Teaching
Please note that Teaching at Vanderbilt, the CFT's orientation for new faculty, will be held in Featheringill Hall. Teaching workshops and teaching consultations will be held at the Center for Teaching itself.  Directions to the CFT  can be found below.
Walking Directions
The Center for Teaching (CFT) is conveniently located at 1114 19th Avenue South. Situated at the corner of 19th and Edgehill Avenues, the CFT is just one block from the 21st Avenue pedestrian bridge, making it only a 7 minute walk from Central Campus and just 3 minutes from the Commons. See the map below for location.
Visitors will find four Zone 1 parking lots within two blocks of the CFT. Adjacent to the building on 19th Avenue is Lot 111 (please do not park in the spaces designated for the Child Care Center); on Edgehill Avenue there are two lots: Lot 80 and Lot 82; and across from the Commons Center is Lot 77 (18th Avenue South).
After 2:30 p.m. vehicles with any university commuter permit may park in any zoned lot. There are also a number of metered spots available in front of the building on 19th Avenue.
For more information about TaV, contact the Center for Teaching at 322-7290.