Teaching, Difference, and Power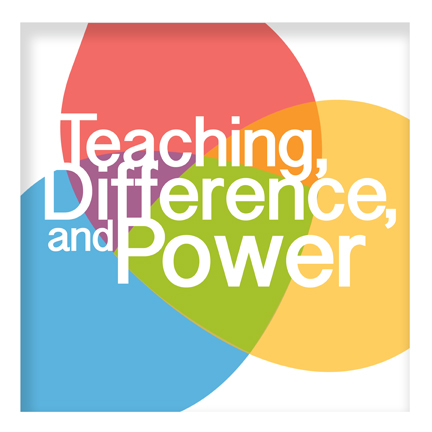 ---
The Center for Teaching recognizes that powerful social systems of difference and inequality touch down in practically every domain of higher education, from its teaching to its research, from its social life to its public engagement. Whether it is race, gender, class, sexuality, nationality, ability, religion, or many others, these differences and the social systems that shape them impact every aspect of campus life. Nowhere is this more obvious than in the work of teaching and learning. Faculty and students come to classrooms as ever-changing embodiments of these many differences and their intersecting and sometimes contradictory histories. They come with preconceptions and aspirations shaped by these experiences, and make choices in their teaching and learning that can have far reaching consequences for themselves, their communities, and their society.
In these many choices educators have a special responsibility. Through the choices we make in our teaching, our classrooms can become either places of diversity or homogeneity, dialogue or disengagement, openness or obedience. Which form it takes will ultimately determine how much is learned, whose voices we empower, whose successes we enable, and whether we have reproduced or transformed our world's many inequalities and exclusions. Therefore, any critical approach to teaching requires that we explore the many ways that complex histories of difference and power in our societies affect our teaching practice, and conversely, understand how teaching and learning can either reinforce or reform them.
To encourage and nurture this work, the Center for Teaching has several programs and services designed to support instructors in their professional development. These programs and services include…
Learning Communities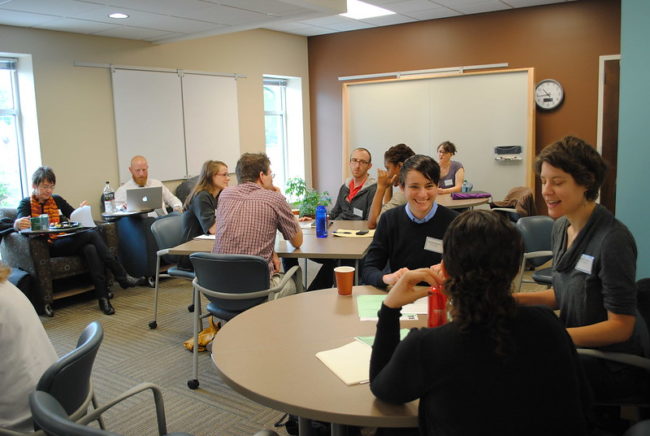 Each year the Center for Teaching has been home to year-long learning communities dedicated to exploring many dimensions of difference and power in their teaching.  Open to faculty, staff, graduate students, and sometimes undergraduate students, they have met between six and eight times each year to address themes co-created by the participants, particularly panelists and discussants who co-created and co-facilitated discussions.
2014-15
Race and ethnicity
To begin our learning communities on Teaching, Difference, and Power, we created a space for critical reflection and action on the realities of radial difference and power in the classroom. Through a series of engaged conversations structured around readings and the contributions from co-facilitators, faculty and graduate instructors sat together and contemplated the pervasive, yet elusive, nature of race in higher education, with particular emphasis on the manifestations of race in the classroom. By fostering this community of committed learners, we sought to nurture a space for serious and compassionate conversations on racial bias, stereotype threat, microaggressions, and other scholarship on challenges to racially inclusive education; explore best practices of racially inclusive instruction across the disciplines; discuss ways to teach issues of race effectively; collect and analyze graduate student attitudes relating to the Vanderbilt campus climate; to explore ways higher education could take an active, responsible role in response to the public protests against racial violence; and create an alliance with a sustained commitment to equity and diversity across campus.
2015-16
Gender and sexuality
Planned with support from the KC Potter Center and the Margaret Cuninggim Women's Center, this learning community fostered a discussion of, both the many issues that arise when teaching a student body of varied gendered and sexual identities, and how gendered and sexual subjects may be taught effectively.  It involved informal discussions of pedagogical readings, introductions to the complex ways gender and sexuality impact teaching and learning, explored various teaching challenges, and practical strategies for improving our teaching and learning. The topics covered included but were not limited to creating inclusive, safe, but also brave spaces for learning; engaging students of diverse gendered and sexual identities, gender and sexuality in student evaluations; managing authority in the classroom; the history and contributions of feminist pedagogy; teaching gender and sexuality effectively; and others.
2016-17
Class Matters
This learning community focused on social class in cultures of teaching and learning, particularly the challenges faced by lower income and first-generation students in the classroom, and the difficulties of class-conscious teaching strategies. The participants had wide-ranging discussion about the ways in which class differences and conflicts manifest in campus life and the strategies by which Vanderbilt's staff and faculty can create a more class conscious, equal, and inclusive classroom and campus culture. Participants and discussants debated ways to address a variety of related student issues including stereotype threat, impostor syndrome, financial deficits/needs, economic stresses, elusive belonging, first-generation students' exclusion, and many others. The learning community culminated in a symposium, Teaching, Difference, and Power: Class Matters.
2017-18
Disability
Higher education today is home to an increasingly diverse student population with a wide variety of needs and abilities. This presents innumerable opportunities to enliven and enhance the intellectual dynamism of our classes and campuses, but also many challenges as we seek to create classroom and campus settings that are fully accessible and participatory.  This learning community – co-created and -facilitated by staff and faculty from the Office of Equal Opportunity and Access, the Department of Special Education, Center for Medicine Health and Society, and Next Steps at Vanderbilt – explored a variety of subjects related to teaching inclusively to students of diverse abilities: disability rights movements in higher education; student accommodation procedures, demographics, and best practices; Universal Design for Learning principles and practices; Brightspace and accessibility technologies; insights from Special Education on teaching students with sensory and cognitive disabilities; and many others.
2018-19
International Students and Faculty
This year focused on a dynamic discussion of the many issues that arise for international students and faculty in the U.S. classroom, and the teaching approaches that may create greater inclusion, equity, and dynamic dialogue. Designed in collaboration with leaders of the English Language Center and International Student & Scholar Services, representatives of international student organizations, and experienced international faculty, the learning community involved informal discussions of pedagogical readings, teaching challenges, and practical strategies for improving teaching and learning experiences. Topics included but were not limited to: creating inclusive assignments and classroom dialogues, understanding social biases towards international students and faculty, engaging students of diverse national backgrounds, supporting students for whom English is a second language, understanding student-faculty expectations given differences in cultures of education outside the U.S., empowering international instructors' authority and effective communication in the classroom, and other topics.
2019-20
Teaching while Black (co-sponsored with the Bishop Joseph Johnson Black Cultural Center)
Developing out of conversations occurring at the Bishop Joseph Johnson Black Cultural Center about the challenges Black instructors and graduate students face at predominantly white institutions, this learning community entailed four discussions throughout the Fall semester, 2019. Facilitated jointly by the Black Cultural Center and the CFT, and involving a variety of Black faculty discussants from across the disciplines, the dialogues addressed multiple issues: the history and experiences of Black faculty and students at Vanderbilt, teaching methods that include and empower Black students, creating inclusive and equitable classrooms, critical race pedagogy and its implications for classroom practice, strategies Black instructors may use to maintain authority and authenticity, Blackness and performance, and the development of Black professional communities and networks, among others.
2020-21
Teaching and Race
In the midst of racist and anti-immigrant violence in the United States, and in response to protest movements calling for racial justice, many Vanderbilt instructors and staff expressed a commitment to address these concerns in their teaching.  As part of that commitment, they wished to understand critical approaches to teaching about race and racial justice and to develop an ever more inclusive and just campus for students of all backgrounds. Towards this end, the Center for Teaching hosted a learning community throughout 2020-21 that addressed a variety of related topics, including the scholarship on teaching race and racial justice, the experiences of faculty and students of color at Vanderbilt, transforming conflicts around race into productive dialogue, the benefits of culturally appropriate pedagogy, reducing racial and other performance gaps for students across the disciplines, among other subjects.
2020-21
Promoting Persistence in STEM Learning Community
STEM disciplines have long been concerned with disparities between underrepresented and well-represented student groups and the associated "pipeline" problem, where underrepresented students are more likely to switch away from STEM majors. The book Talking about Leaving Revisited, published in December 2019, discusses findings from a five-year study that explores the extent, nature, and contributory causes of field-switching both from and among STEM majors, and what enables persistence to graduation.  This learning community used Talking about Leaving Revisited to promote discussions of changes to reduce disparities in our courses and our programs. We met monthly to discuss excerpts from the book as well as possible individual and programmatic responses.
2022-3
Anti-Racist Teaching
The CFT is co-hosting a learning community with Meredyth Wegener (Neuroscience) on anti-racist teaching with the goal of better understanding how higher education systems, teaching and learning practices, and our disciplines can resolve rather than reproduce racial marginalization and exclusion. Discussion will largely focus on the challenges and opportunities white anti-racist educators confront, but all are welcome to attend regardless of identity, discipline, or expertise. The meetings will be grounded in a set of critically reflective writing exercises and dialogues recommended by BARWE (Building Anti-Racist White Educators), yet we hope participants will feel free to co-create learning goals and content as we proceed through the academic year. The topics will we address are open, but will likely include teaching in predominantly white institutions, histories of whiteness, the way social structures of racism impact higher education, inclusive and equitable teaching, practices of interracial partnership, and strategies of teaching about race and racism, among others. Throughout, we hope participants will engage one another in a co-creative, in-person process of open inquiry into their teaching philosophies and strategies, and all the while provide one another with community, accountability, and encouragement. If you are interested in joining the discussions please register for the learning community at this link.  If you have any questions, please contact joe.bandy@vanderbilt.edu.
2021-22, and 2023-4
Queer Teaching, Queer Thriving: A Learning Community on Inclusive Teaching for All Educators
The Center for Teaching and the K.C. Potter Center for LGBTQI Life are proud to offer a 2023-2024 learning community about ways campus educators may help LGBTQI students to thrive academically and socially. Open to all faculty, graduate students, and staff of any background, the learning community will discuss a wide variety of issues: the needs of LGBTQI+ students and faculty on campus, the complexities of gender and sexual identities, inclusive course design and teaching practices, queer pedagogies, building LGBTQI+ community, as well as educator wellness and self-care. The formats of the meetings will vary, including pedagogical colloquia, panels, and workshops, among others. As a learning community with multiple, thematically-linked events that inform each other, we hope participants attend as many as schedules permit. If you are interested in joining the discussions please register for the learning community at this link.  If you have any questions, please contact joe.bandy@vanderbilt.edu.
Workshops on Inclusion and Equity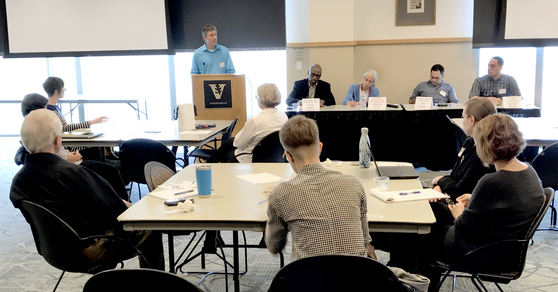 The CFT offers a variety of workshops focused around the themes of inclusion and equity.  These have been available to campus-wide audiences in yearly Just-in-Time Teaching Conferences, as well as via tailored workshops developed in concert with departmental, school, or grant administrators on an ad hoc basis. Versions of some of these workshops also have been facilitated by Assistant Director Joe Bandy at other institutions, including Yale University, Johns Hopkins University, the University of Alabama, and Indiana University Pennsylvania.
Inclusive Teaching
This workshop provides an introduction to some of the foundational research on, and principles of, inclusive teaching.  Inclusive teaching is that which supports all students in their efforts to find greater belonging, equity, and trust in a course's learning community.  It is predicated upon thinking through the barriers to inclusion as they affect our teaching and what may be done to overcome them.  Using case vignettes, this workshop gives participants the opportunity to explore practices of inclusive teaching that can improve their courses by engaging wider range of voices and viewpoints, by creating greater accessibility in activities and assessments, by supporting classroom civility and productive conflict, and by fostering a culture of collaboration and empowerment with students that encourages deep learning and critical thought.  Topics addressed include implicit bias, stereotype threat, microaggressions, universal design for learning, and growth mindsets, among others.
Civility and Conflict Negotiation in the Classroom
Focusing on the research on difficult dialogues and conflict negotiation, this workshop offers instructional development on pedagogical approaches and teaching techniques necessary for both preventing and responding to classroom conflict. While difference and conflict are essential to deep learning, conflict can become reactionary and unproductive, particularly in the discussion of issues that are laden with identity, emotion, and historical trauma. Using case studies, the workshop helps participants think through strategies for preventing conflicts, or when they occur, transforming them into productive teaching moments. Topics addressed include civility and incivility, productive and unproductive conflict, microaggressions, trigger warnings, civility statements, and non-violent communication, among others.
Writing a Diversity Statement
The CFT has partnered with The Provost's Office of Inclusive Excellence and The Office for Career Development at The Graduate School to provide an introductory workshop on developing a written diversity statement. Increasingly, universities and colleges are requesting that faculty job applicants provide a statement addressing how they plan to contribute to inclusive excellence in their professional lives. The purpose of this document is to verify that an applicant has a commitment to diversity in his or her work within higher education, including scholarship, teaching, service, mentoring, and advising. From the applicant's perspective, a diversity statement offers an opportunity to articulate the many ways one may contribute to inclusive and just research, teaching, and service; and the challenges to this work that one may help academic institutions overcome. This session introduces several approaches to developing and writing a diversity statement and gives participants an opportunity to begin generating ideas on their own and in small groups.
Teaching beyond the Gender Binary
In partnership with the Vanderbilt Faculty Senate, the Department of Gender and Sexuality Studies, and The K.C. Potter Center, the CFT created and offered workshops throughout 2015-16 with the purpose of orienting faculty to issues of non-binary gender politics and identity. In addition to providing faculty with an overview of the basic history and nomenclature surrounding non-binary gender identity, the workshop offered faculty support in responding to the needs of diverse students, particularly guidance regarding dialogues about pronoun usage, Vanderbilt's name change policy, and various gender-inclusive pedagogical practices that ensure all students are respected and can thrive.
Teaching Race
Drawing on research conducted by Joe Bandy, Brielle Harbin, and Amie Thurber, this workshop reviews several of the most pressing challenges faculty face as they teach issues of race, and the primary strategies they and the literature on teaching and learning suggest are useful in meeting them. Teaching issues of race to diverse student groups is among the most challenging tasks in higher education, and both faculty and students struggle with such dialogues in ways that are symptomatic of broader social problems with racial dialogue.  This workshop begins with these issues and then offers various critical pedagogical approaches that have proven successful across higher education. Topics include critical race pedagogy, racial formations, colorblindness, post-racial beliefs, reflexivity, whiteness, teaching solidarity, inclusive assessment, and affective learning, among others.
African American & Diaspora Studies Graduate Certificate: Teaching Workshop
Each year, the CFT's Joe Bandy co-teaches with Dr. Gilman Whiting a three-week unit in the introductory course, AADS 5002: Theories of Diaspora, for the Graduate Certificate in Diaspora Studies in the Department of African American & Diaspora Studies. In this unit, they offer students an overview of critical race pedagogy, principles for teaching race effectively, and practices of inclusive and equitable teaching.  Students also have the opportunity to design syllabi for a course they might teach in their own discipline to add to their portfolio and assist them in applying for academic positions.
Helping Underperforming STEM Undergraduates
In collaboration with The Provost's Office of Inclusive Excellence, and offered for STEM Teaching Assistants, this workshop led by CFT senior staff and Graduate Teaching Fellows focuses on the challenges of underperforming students and various practices of inclusive teaching.
Teaching Underserved Populations at Teaching-Focused Institutions
This workshop focuses on the teaching needs of The Mellon Partners for Humanities Education, recent Vanderbilt PHDs who received an Andrew Mellon Foundation grant to support two-year postdoctoral teaching positions at Tennessee State University, Tugaloo College, and Berea College. Offered annually throughout the term of the grant, the workshop addressed the opportunities and challenges of teaching at historically Black and low-income institutions, particularly the needs of underserved working class students and students of color. More recent versions of this workshop focus on these challenges in the context of online teaching.
Decolonizing Our Teaching
The exhortation to "decolonize" our syllabi, and teaching more generally, has become increasingly common across higher education in recent years. For its many advocates, decolonization can include a wide variety of practices, such as the acknowledgement of indigenous land claims, understanding how the culture of colonialism has shaped our disciplines, diversifying the canons of our fields, anti-racist and culturally responsive teaching, inclusive course design, and a de-centering of pedagogical authority, just to name a few. With a panel of faculty and students from diverse disciplines, we explore what it means to decolonize our teaching in theory and practice.
Conversations on STEM Teaching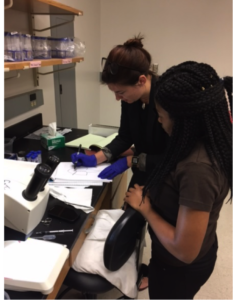 As part of the Science Teaching Lunch series for STEM instructors, a variety of expert discussants at Vanderbilt and other institutions have led conversations on the following subjects.
Electronic Resources
The following guides have been produced around subjects related to equity, diversity, and inclusion, with more to come:
In addition to our online guides, the CFT frequently publishes blogposts on issues related to diversity, equity, and inclusion.  A sample of these include:
Orientations, Fellowships, Certificates, and Institutes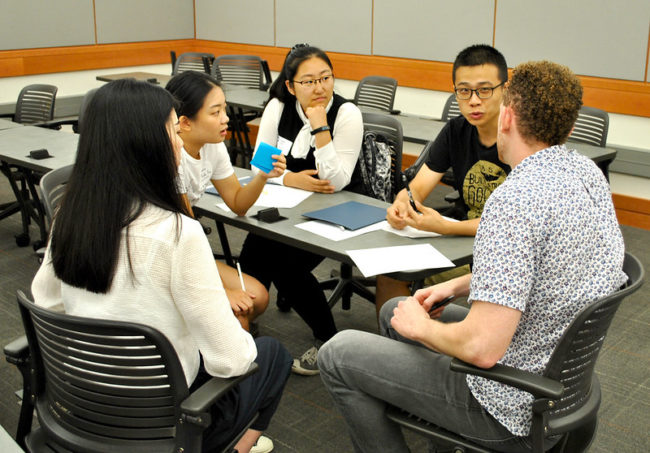 In addition to programs and workshops solely dedicated to addressing equity, diversity, and inclusion, the Center for Teaching seeks to address these issues within programs that focus on foundational teaching principles and practices, including:
Consultations
Individual consultations around inclusive teaching practices are possibly the most frequent and beneficial service the CFT offers to support equity, diversity, and inclusion. Focusing on anything from course design to educational technology, facilitation strategies to course evaluations, these one-on-one discussions allow for highly personalized support for faculty seeking to hone their teaching practices and create more equitable and inclusive courses.  In addition to individual consultations, the CFT frequently has engaged in consults with Vanderbilt bridge programs, Directors of Graduate or Undergraduate Studies, Department Chairs, Deans, and the Chancellor to help strategize ways that organizational resources and structures may be established to support greater equity, diversity, and inclusion across Vanderbilt University.
Research & Reports
Bandy, Joe, Brielle Harbin, and Amie Thurber. (Forthcoming). "Teaching Race and Racial Justice: Empowering Cognitive and Affective Development." Teaching and Learning Inquiry. 9(1): 117-37.
Harbin, Brielle, Amie Thurber, and Joe Bandy. 2019. "Teaching Race, Racism, and Racial Justice: Pedagogical Principles and Classroom Strategies for Course Instructors," in Race and Pedagogy Journal: Teaching and Learning for Justice, 4(1).
Bandy, Joe, Mary Price, Patti Clayton, Julia Metzker, Georgia Nigro, Sarah Stanlick, Stephani Etheridge Woodson, Anna Bartel, & Sylvia Gale. 2018. Democratically engaged assessment: Reimagining the purposes and practices of assessment in community engagement. Davis, CA: Imagining America.
Chancellor's Committee on Diversity, Inclusion, and Community. 2017. Report & Recommendations. Nashville, TN: Vanderbilt University.
Partnerships
The Center for Teaching is fortunate to have so many thoughtful and generous institutional partners across campus who collaborate regularly in the design and delivery of our many workshops, learning communities, and programs that address equity, diversity, and inclusion.  These include:
---
.
.
.