The CFT Welcomes New Assistant Director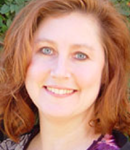 We're excited to announce the upcoming appointment of Nancy Chick as a new assistant director at the CFT.  Nancy is currently a professor of English at the University of Wisconsin-Barron County, and will begin here at the Center in January.  Nancy received her B.A. from the University of New Mexico and her M.A. and Ph.D. from the University of Georgia.  At UW-Barron County, Nancy has taught a variety of face-to-face and online courses in English and women's studies, including courses on American literature, multicultural literature, women in pop culture, and film studies.
Nancy's work extends far beyond UW-Barron County, however.  She co-directs the University of Wisconsin System's Wisconsin Teaching Fellows and Scholars Program, equipping faculty to engage in the scholarship of teaching and learning.  She also directs the University of Wisconsin Colleges Virtual Teaching and Learning Center, supporting faculty at 13 campuses in their roles as teachers and teacher-scholars.  Nancy is also active in the International Society for the Scholarship of Teaching and Learning (ISSOTL), having served on the board of directors, served as program chair for the recent ISSOTL 2011 Conference, and chaired the ISSOTL Humanities Interest Group.  She has published on multicultural women writers, the teaching of literature, feminist pedagog, and the scholarship of teaching and learning and has co-edited two books on signature pedagogies.
Nancy's expertise in the scholarship of teaching and learning, diversity in the classroom, online teaching, and other topics will add a great deal to the CFT team, and we look forward to introducing her to colleagues across the campus in the spring.